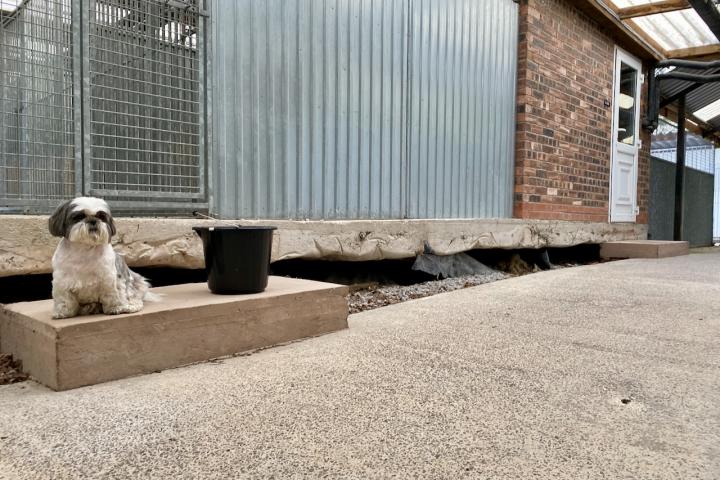 The photo above was taken on April 20th., 2021. It clearly shows the current status at Newgate Kennels with massive ongoing subsidence. We are aware that there are further properties in the area that are also having problems but this picture really does tell a story.
Cheshire County Council were first alerted to the problem in 1997 when a Hydrological report was submitted to CCC by The Environmental Consultancy of the University of Sheffield. It said this situation could be expected if peat extraction continued, unless mitigation measures were put in place.
Unfortunately, despite fine words from CCC, the conditions they assured us would be 'rigorously enforced' in 2003 were allowed to be ignored by the extractor, Croghan Peat. Over the years Saltersley Common Preservation Society (SCPS) have commissioned various reports in an effort to bring some sort of control to the continued destruction of the peat bog allowed by CCC, CEC and Croghan Peat Ltd.
These include two reports by Derek Gow, foremost UK authority on Water Voles, who said on his last visit 'I have never seen a site so comprehensively trashed'. An arboricultural report to investigate why so many oak trees are leaning and falling on Rotherwood Road; this is because of constant fluctuations in the water table. And finally an hydrogeological report which disproved the biggest lie that CEC have used.
They have always said it couldn't be proved that the subsidence was caused by the peat extraction. They even used this excuse when found guilty of maladministration by the Local Government Ombudsman in 2012. Every report has been ignored.
We now have a situation where, at a Strategic Planning Board meeting in December 2019, they presented spurious evidence in favour of granting planning permission for 14 houses to Croghan Peat Ltd., the very company they have allowed to destroy the peat bog. Evidence that directly contradicted UK Deformation figures showing massive subsidence on and around the peat bog and contained in the hydrogeological report.
Now, whilst Croghan Peat, CEC and the proposed builder argue about the size of the houses, the water table drops further, drying out the peat taking with it the surrounding land. Meanwhile, Newgate Kennels (employer of over 40 locals) struggle to keep their buildings safe for use at great expense. They have issued a notice of a claim against Croghan Peat for nuisance but this is being stonewalled. Probably in the hope that they (Croghan) will offload their responsibilities beforehand.
Anthony Evans
Saltersley Common Preservation Society