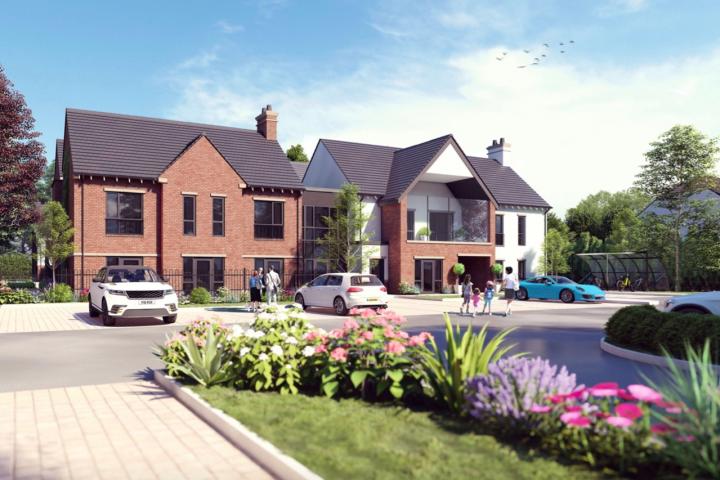 Plans to build a 60 bedroom care home at a site on Manchester Road, which is currently occupied by a two detached properties, will be considered by the Northern Planning Committee next week.
Care UK is seeking planning permission for the demolition of the two detached homes with detached garages at 107 to 109 Manchester Road and the replacement with a care home containing 60 ensuite bedrooms.
On the ground floor facilities will include a hairdressers, café and a cinema along with lounges, dining rooms and flexible day rooms on all floors. A staff lounge and changing facilities will be incorporated within the back of house area.
The access to the site will remain off Manchester Road however, it will be relocated to allow the entrance to be made wider and a car park will provide 33 spaces, up from the 25 vehicle parking spaces proposed at the public exhibition held in February, including 2 disabled parking spaces, 1 delivery and 1 ambulance bay plus 10 cycle parking facilities.
Objections were received from 145 properties, however the Planning Officer is recommending the Northern Planning Officer approve the application stating:
The application lies within Wilmslow, which is identified as a Key Service Centre where the principle of such development on the site is acceptable. As the proposal is not classified as use class C3 (dwellinghouses), there is no affordable housing requirement. However, the development will provide suitable accommodation to enable an ageing population within Cheshire East to live full independent lives for as long as possible. It is considered that the proposal would make a valuable contribution towards housing for elderly people within the Borough, as well as continuity in their care, which is a material consideration. In light of an objection from the Council's Adult Services, the precise need is still being discussed with the applicant and will be reported to Members by way of an update."
Adding "The proposal also raises no significant visual, highway safety, amenity, design or flooding issues, and complies with relevant local and national planning policies. A number of economic benefits will also arise from the development including additional trade for local business and the creation of employment. Bearing all the above points in mind, it is considered that the proposal accords with all other relevant Development Plan policies and as such it is recommended the application be approved, subject to relevant conditions and a s106 contribution towards healthcare provision."
Wilmslow Town Council recommended refusal of this application on the grounds of overdevelopment of the site within a low-density area and being contrary to Policy NE6 of the Wilmslow Neighbourhood Plan with regards to garden development. They stated "The development is out-of-keeping with the streetscene, particularly in terms of mass. The proposed parking provision is of poor design, insufficient and contrary to Cheshire East Council's policy in respect of care home parking provision."
Residents have raised concern regarding a lack of car parking, highway safety issues, poor drainage, doctors' surgeries in the area will be overwhelmed, there is not a need in the area for additional care homes, loss of light and overlooking to surrounding adjacent neighbours, the building will be out of character with the surrounding area and public transport is lacking to the site.
NHS Eastern Cheshire Clinical Commissioning Group have requested a financial contribution of £30,240 to support the development of Alderley Edge Medical Centre, Chelford Surgery, The David Lewis Medical Practice, Handforth Health Centre, Kenmore Medical Centre, and Wilmslow Health Centre.
The plans can be viewed on the Cheshire East Council planning portal by searching for planning reference 20/1560M.
Tags: