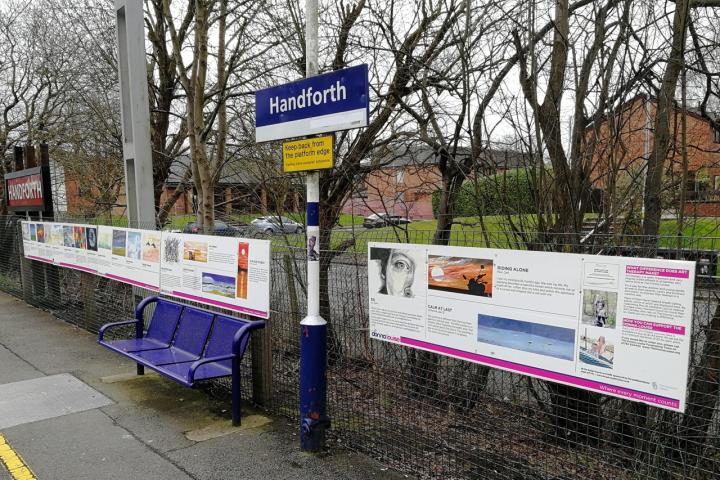 As they continue to plan for the installation of lifts to enable Access For All, the Friends of Handforth Station (FoHS) are working with many groups related to the planned improvements, including those who cater for the disabled, the disadvantaged, the underprivileged, and the terminally ill.
Adding to the recent exhibition on behalf of the homeless, which is still visible in the ticket office and in Art In A Box, FoHS have now teamed up with the Donna Louise Hospice for Children & Young People. The station's latest 'Platform for Art' display is an outdoor exhibition of paintings, created by families who rely on the care services offered by the Hospice, which be seen on the station concourse and on the Manchester-bound platform.
A spokesperson for The Donna Louise Hospice, which provides a lifeline to hundreds of families across Staffordshire and Cheshire who are facing every parent's worst nightmare: the heart-breaking knowledge that they will almost certainly outlive their child, said "The Donna Louise Hospice is far brighter than you may think. It is belly laughs and best friends, it is light in the darkest hour, it is glitter and sparkle, Xbox and drums – it is real understanding. Whatever our children, young people or families need, the Donna Louise Hospice is there.
"We were delighted that the Friends of Handforth Station could display our paintings and spread our message, and we hope they provide a colourful contribution to this lovingly cared-for station."
Mike Bishop, the President of FoHS, added that "We appreciate that in the present 'lockdown' conditions, far fewer people than usual will have the chance to see this wonderful exhibition. However, we plan to leave the paintings on display for many more weeks so that, as travel restrictions ease, they will give pleasure to our regular and irregular station users alike."