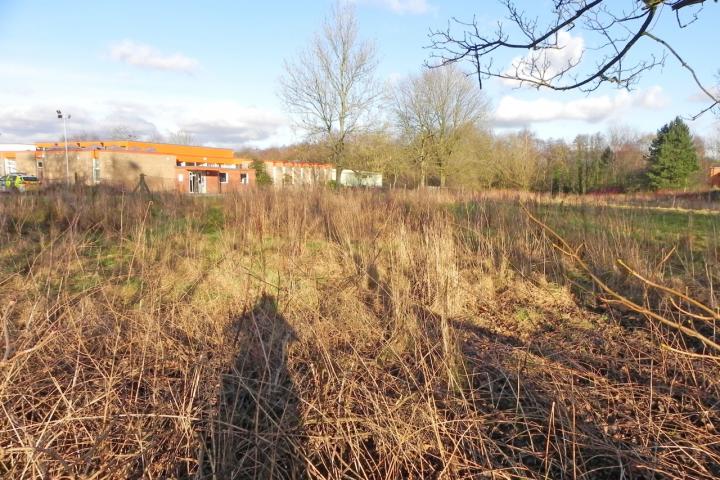 Cheshire East Council has unveiled initial proposals for a park and ride facility in Handforth.
Draft plans have been presented for a car park including 105 standard parking bays, 10 disabled parking bays, 8 motor bike bays and 36 bicycle lockers in a field adjacent to Handforth Youth Centre.
The bus turning circle would, in part, use the existing entrance to Old Road and a new pedestrian crossing would allow pedestrian access from the car park to the pavement on the south side of Station Road.
Roger Small, Chair of Handforth Neighbourhood Plan Steering Group (HNPSG), said "Provision of a station car park in the small field to the east of Handforth Youth Centre forms an integral part of Policy H17 of the Handforth Neighbourhood Plan – a plan adopted by Cheshire East Council in July 2018. It also forms an integral part of an application to Access for All for the provision of a pair of lifts at the station – an application announced as successful in April 2019.
In order to achieve adequate footpath width on the south side of Station Road it might become necessary to narrow the carriageway over the railway bridge, a process that would involve the installation of traffic light control.
A significant fraction of the costs of developing the proposed station car park would be met by monies accruing from the development of the Garden Village at Handforth and with the intent of meeting the anticipated parking needs of the new village.
Representatives of Cheshire East Council held a drop-in session for neighbouring residents in Handforth Youth centre on Monday, 10th February, which was intended as a prelude to the submission of a planning application.
It was attended by several parish councillors along with nearby residents.
Speaking about the event, Roger Small said "Residents from Hereford Drive, expressed concerns about loss of privacy, light pollution from the car park, possible antisocial behaviour in the car park, and noise. However, the council representatives suggested that privacy in the rear gardens of Hereford Drive would be preserved by suitable landscaping and tree planting. Light pollution could be minimised by the use of directional, low level lighting. The likelihood of antisocial behaviour could be minimised by the use of CCTV. It was also suggested that noise could be minimised by concentrating the parking of electric vehicles and their charging points in the north east corner of the proposed car park."
There was also some discussion that, separate from the planning application and following the construction of the park and ride facility, it might prove possible to extend the double yellow line system to prevent parking at the southern end of Hall Road outside St Benedict's church. Possible systems for charging for car park use were discussed.
Photo: The site proposed for the Park and Ride facility. The building top left is the Handforth Youth Centre.
Tags: