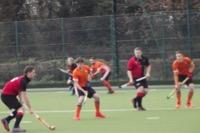 Stockton Mens 1st 2 Wilmslow Mens 1st 3
Wilmslow Men's First Team started their post-Christmas promotion push with a hard-fought 3-2 victory away against Stockton.
Wilmslow started well and pressed their opponents into errors in the first ten minutes and took a deserved lead when Pete Hallinan slotted home at the back post.
Stockton's game plan was to break quickly with long balls up the pitch and this worked for their equaliser. Wilmslow naively turned the ball over near the Stockton goal and Were punished by a long aerial over the Wilmslow defence and a smart finish from Stockton's target man.
Stockton took the lead shortly after half time when a missed interception in the Wilmslow defence let Stockton in to play it around Elliot Bullman in the Wilmslow goal.
This finally jolted a lacklustre Wilmslow into life. Man of the match Hallinan levelled the scores with a superb solo effort, picking the ball up alone in the Stockton half and taking on 2 defenders before sliding the ball past the Stockton keeper and into the bottom corner.
Just one minute later, Wilmslow were ahead. A swift attack down the right hand side saw the ball break to Andy Hunt who finished emphatically to give Wilmslow a 3-2 lead.
Stockton threatened with a flurry of short corners but Bullman made one particularly sharp stick save low to his right to preserve the Wilmslow lead. The men in orange calmly saw out the final stages of the game to give themselves a great start to the second half of the season and second place in the league table
Local bragging rights add extra spice to games between Wilmslow and Macclesfield and the visitors 1st team fought hard to avoid being defeated by Wilmslow 2nds. Despite being on top the oranges let the match slip to 3-3.
Mens 3 and 4ths lost to Winnington 2nd and Crewe 3rd but the 5ths had an excellent 1-1 draw with Macclesfield 4ths.
Wilmslow Ladies 1st 0 Kendal Ladies 1st 2
Wilmslow made a poor start to the new year following up Saturday's home defeat with an away defeat on Sunday to Lytham St Annes.
The absence through long term injury of captain Charlotte Kelman has robbed the defence of its previous invulnerability and up front Lindsay Rachubka laboured in vain without the stickwork skills of her strike partner Carla Botha, another injury victim. This should not take away from a Kendal team which was very efficient and defended well in the 25 keeping at bay wing runs from Maddy Troup and Hannah Coulson and pressure from Danni Harvey. Unfortunately two defensive errors proved costly.
Best news for the Ladies teams was a 2-1 away victory for Wilmslow 2nds with a makeshift defence against old foes Runcorn 1sts.
Ladies 3 and 5th both lost to Timperley and Alderley teams 0-3 and 0-2 respectively. Ladies 4th ground out a 1-1 draw with Golborne 2nds. More dropped points but still in second place.
Match report by Steve Kinsella.
Tags: