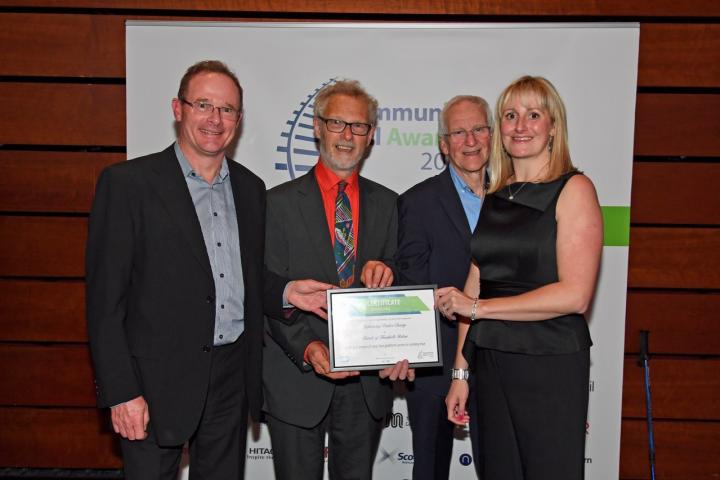 Every year, the Association of Community Rail Partnerships organises a major competition to reward the best ideas and actions at stations throughout the UK.
From simply tidying the station, through work with dementia sufferers, to major refurbishment of buildings, voluntary groups like the Friends of Handforth Station (FoHS) are inspiring local people, increasing station usage and building the community.
The Crewe to Manchester train line boasts several very active station groups; three of which (including FoHS) were shortlisted for prizes to be awarded at the annual dinner, held at Telford on October 3rd.
FoHS were shortlisted for three prizes: for their new "Archways" structures, for their regular "Art in A Box" displays and "Influencing Positive Change" which they won the national 2nd prize.
The award recognises the huge effort made by FoHS to get people and groups together and push for step-free access to the station platforms.
Andrew Backhouse, Chair of FoHS, said "Over the past 20+ years, we have worked very hard to make our station more attractive and visible, to get people using trains rather than cars, and to campaign for step-free access. It was great to be acknowledged for the work we have done to secure funding for the new station access."
Steve Forde, Steve Forde, Community Rail Officer for The Crewe to Manchester Community Rail Partnership, added "I'm thrilled at the success of the Friends of Handforth Station group; their long-standing campaign for step-free access is a great example of what can be achieved with persistence and determination.
"Their innovative art projects such as "Art in A Box" do much to help the station provide a welcoming atmosphere and to help put the station at the centre of the community. I look forward to working with them on even more inspirational projects."
Photo: FoHS members proudly displaying their award. L to R Hugh Everett, Andrew Backhouse (Chair), Mike Bishop (President), Jenny Barnes.