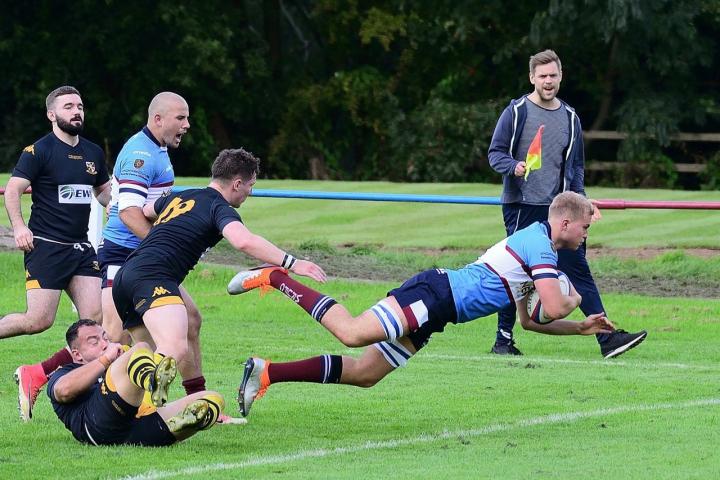 Saturday 7th. September 2019
North 1 West
Wilmslow 36 – 32 Burnage
The Wolves put their supporters through the proverbial wringer before staggering to the narrowest of wins.
As the game entered its final phases, they had several opportunities to close it down but a turnover at the breakdown, from which Burnage broke away for their final score, a forward pass and then a dropped pass in the final lineout all conspired to give Burnage the chance to snatch a last gasp winning try before they too knocked on and a relieved Wilmslow scrum half, Sean Street, booted the ball out of play for no side.
It ended five tries a-piece. Influential centre Mark Jennings, without whom the Wolves would have lost, got three of them and flanker Seb Pemberton the other two. The difference on the scoreboard was fly half Bob MacCallum, whose goal kicking was on target five times out of six. In response, Burnage No. 10 Rhys Evans kicked a first half penalty, left winger Josh Miller scored twice and three other Burnage tries followed in a hectic second half.
Wilmslow were slow to get going and as the half hour approached found themselves trailing 3 – 8 but they then had a purple patch which took them to a 22 – 8 half time lead. First a series of forward drives were held up on the Burnage line but when the ball was released MacCallum put Pemberton through a gap for the Wolves opening try.
They then added two more just before the break. Mark Jennings' break before he was high tackled took the Wolves back to the Burnage line and, although they fouled up a lineout and then got themselves penalised at a scrum, they kept the pressure on. Winger Jamie KIngdon ran back a loose Burnage clearing kick and when the ball went to Jennings, there was no stopping him from close range.
From the restart Sean Street got the Wolves on the front foot again and when the ball was recycled the Burnage defensive line was broken and Jennings timed his pass to Pemberton perfectly for the flanker to gallop in from close to halfway for his second touchdown.
As the second half started it looked good for the Wolves but not for long. They soon conceded a penalty lineout on their twenty two from where the Burnage pack drove to under the Wolves posts and when the ball was released Miller found himself with space to score his second of the afternoon.
Back they came again with an Evans kick into Wolves territory where it was taken by the Wolves No. 14 James Coulthurst, who mistimed his clearing kick into empty space where an almighty hoof from the chasing Ethan Harding propelled the ball well into the Burnage half. It bounced kindly for Ben Day, who gave it another whack, and when it sat up again, Jennings was on hand to grab it for his second try of the game. Fortuitous for the Wolves doesn't go close to describing it.
Wilmslow's lineout was 'iffy' all afternoon and another fouled up lineout allowed Burnage to break away and although the initial danger was cleared, the visitors recycled and found space to score under the posts. The Wolves then drove from a scrum and when they were awarded a second scrum, quick passing put Jennings in again. It was now 36 – 20 going into the last quarter.
Burnage stole the restart with an athletic bit of play to quickly run in a fourth try and although their No. 8 Ralph Lawson was deemed to have knocked on at the restart, they soon won the ball back, as Wilmslow lost it at the breakdown, and countered for their fifth try with just five minutes still on the clock. It could now have gone either way but the Wolves managed to keep Burnage bottled up in their own half, albeit not without a few alarms, and held out for the win.
Coach Chris Jones afterwards acknowledged that Burnage had executed their game plan well and had pushed his side all the way. Nevertheless, there had also been some good attacking play from his side, everybody contributed, he said, and once again, like last week, they had taken their chances. He was less happy with the number of forced and unforced handling and lineout errors, which wasn't much different from the previous week.
Referee Kieron Henry reckoned afterwards that Burnage had enjoyed about 60% of the possession throughout, which partly explained why the penalty count was so much in their favour. 'I'm surprised by that, he added, it didn't feel like that sort of the game, players from both sides were listening to what I was saying and there was no consistent pattern to the infringements.'
It's early days yet in this league so it's too early to judge the respective merits of both sides. Burnage only just avoided the drop last season but on this evidence they looked a decent well organised side and nobody would have complained too much if they had managed to steal the game. For now though the Wolves can be happy with five league points as they now prepare for their visit next Saturday to arch rivals Stockport.
Seb Pemberton scoring for Wilmslow.
Match report by David Pike.
Tags: