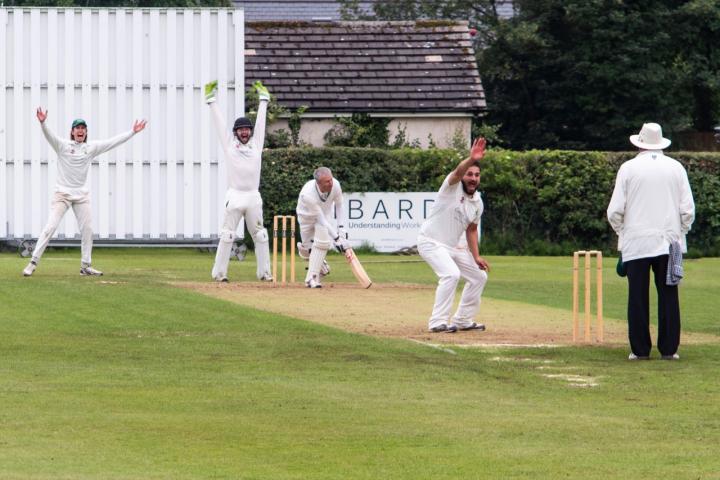 Lindow 1st XI welcomed Tattenhall to Upcast Lane on Saturday, trying to beat them and the weather to extend their lead at the top of the table.
Having won the toss, Lindow bowled first and were looking good as the visitors slumped to 26-2 with both wickets to Saleem Akram (2-15). At this point the heavens opened and two and a half hours were lost to rain.
After a massive effort from all the Lindow players and groundstaff, the umpires deemed the conditions playable and the contest resumed. Unfortunately for Lindow, such are the rules that the visitors could still bat for 50 overs but their innings to chase down the full total was reduced to just 18 overs. Tattenhall seemed content to bat all the overs and at 66-3 looked well set, but the Lindow attack continues to find breakthrough wickets and so it proved again.
Rana Rauf (1-14) got the fourth and then the spin of Sully Raja (5-32) and Tim Affleck (2-11) did the rest, bowling Tattenhall out for 102. This also happened in 40 overs, gaining Lindow an additional ten overs for their chase.
In low scoring games chances need to be taken and the visitors were guilty of a couple of dropped catches, leaving Lindow in the driving seat to win the match. 29 from Rob Herriott followed by an unbeaten 44 run partnership between Affleck (30) and Major Khan (27) was enough to see Lindow home in 26 overs. An excellent all-round effort from Lindow to beat their opponents, time and the weather and with other games rained off they now sit clear at the top.
Lindow 2nd XI travelled to promotion rivals Tattenhall looking to make it back to back wins. Stand-in skipper Rowan Day won the toss and elected to bowl first.
New ball duties were handed to Rob Venables and u14 Ben Hamilton-Ryan who continues to impress in senior cricket. His six overs only went for three runs as the hosts struggled to score off the young left armer.
Such is the depth of Lindow's side they used seven bowlers with Venables, Day, Khalid Ahmed and Ateeb Mehmood all picking up a wicket and Tom Rae taking 2-6 off 5 overs. The hosts ended their 42 overs on 122-7.
Lindow's batting had a similar feel as senior pro Jamie Peel (39 runs) opened with u14 Charlie Hodge, who finished unbeaten on 31. A quick-fire 45 from Mehmood was enough to see Lindow home with three overs to spare, a win which takes the 2nd XI to the top of the table.
Frustrating day for the 3rd XI as their opponents conceded the game, leaving them fourth in the table.
Photo: Sully Raja taking the final Tattenhall wicket (credit to Ian Tasker).
Math report by Rowan Day.
Tags: