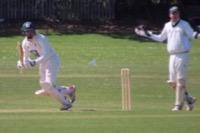 Wilmslow CC 185 for 8 beat Irby CC 122ao
It was a bumper weekend for Squirrels, as both teams gathered valuable wins. This is going to be a tough season for Wilmslow CC, with the league allowing a new club into the Cheshire League Div 2 and increasing the number of relegations.
But with a new club sponsor, some new players, and the momentum gained in beating two teams who both did the double on Wilmslow last year, it is a promising start.
Wilmslow made the long journey to the Wirral, won the toss and elected to bat. Not for the first time a couple of early wickets introduced mild panic, but also not for the first time, the Rowe brothers dug in and took it to 100 before Elliot Rowe fell for 42. The best partnership of the day then saw Toby Rowe (54) and skipper Adam Dixon (40) past 160, cameos from Adnan Arshad and Steve Fulker and the visitors posted a healthy total of 185.
Not so healthy was veteran Fulker, who retired with a badly bruised arm. With super sub Mike Harding on the pitch (no coincidence here), Irby set off guns blazing. At 33 for 1 after 4 overs, skipper Dixon turned to the 'ghost' Lloyd Sykes (2 for 43) and the game changed. Bowling with real control, the runs dried up and when fellow spinner Chris Costa (3 for 26) joined in, the wickets started to fall.
Two wickets fell to Costa, with batsman not playing a shot, this was a spinners paradise. Six wickets down, and Sykes bowled out, Ethan Harding broke the deadlock and with opener Callum Livingstone removing an obdurate 11 LBW, the game was won.
Meanwhile at the Rectory Wilmslow 2nds faced Brooklands 3rd XI. Skipper Conniff invited the visitors to bat, and was proved right as they were in deep trouble at 44 for 5. This only got worse as Oli Warner (3 for 28) and Mohd Faisal(2 for 37) were in complete control at 99 for 9.
How Brooklands got to 141 is a mystery, the bowling of Parmesh Gajjar (4 for 17) and Imran Ashraf rarely disappoints, and didn't on this occasion, but a huge 72no from the no 7 might have some bearing.
At 20 for 4 in reply, Wilmslow were now in their own pit of despair. And this is where the really good news starts. Inevitably it started with a Rowe, young Dom(28) supported by old Oli Warner (17) turned the game. They put on 70 and set the platform for newcomer Mohan(38) to put the Squirrels in a winning position. The victory parade, was led by the ageless Les Hart and the 'mercurial' Ashraf (17) who has shots in his locker, never seen before.
Match report by Mike Harding.
Tags: