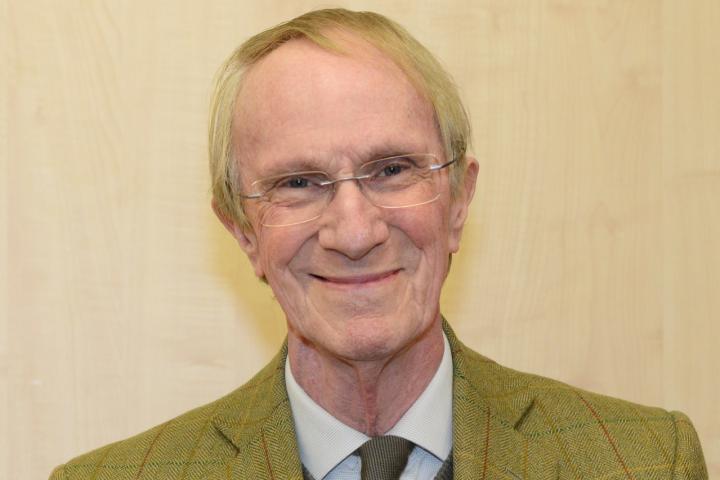 In the run up to the local elections on May 2nd I have been publishing brief interviews with each of the candidates - standing for seats on both the Town Council and Cheshire East Council - that respond to my request, in the order in which they respond.
To read interviews with other candidates you will be able to click on the tags at the bottom of the article. For example, pieces on the other candidates for the Wilmslow Town Council election will all be tagged 'Wilmslow Town Council 2019 Election'. Candidates representing the same party or group will also be connected via the tags, candidates competing in the same ward will be connected by tags as well and all articles will be tagged '2019 Local Elections'.
Frank McCarthy is a Conservative Party candidate for the Dean Row ward on both Wilmslow Town Council and Cheshire East Council.
Frank and his family moved to Wilmslow 34 years ago when he was appointed Audio Manager North Region at the BBC. When the BBC closed their North Region operations in Oxford Road Manchester, his career took him into Education. He worked for 15 years in Wilmslow High School in the Science and ISS departments and ran the school's Computer Club for 10 years. He also became the school photographer!
Are you a member of any local groups or societies?
I was a member of the Wilmslow Show committee for over 20 years, and its Chairman for 15 years, transforming it from a small horticultural show to the large family event we know today. I am also a member of Wilmslow Dean Rotary, and deeply involved in all its community activities including the Swimathon and the annual Scarecrow Festival. I am a member of the Evans Arts Trust.
How long have you been a councillor? Why have you decided to stand for the Town Council and Cheshire East Council?
I first became a Councillor back in the 70s in my home city of Cardiff in South Wales as a member of Cardiff City Council, where I became deputy chairman of the council's Transport Committee, which ran the city's buses. I also served on the Education and Waterworks committees – yes we even ran the waterworks and owned several large reservoirs in those days!
On local government reorganisation, I became a member of South Glamorgan County Council, where I became Chairman of the Education Committee and later Leader of the Council. All these posts were of course completely unpaid, and done as a service to the community. They were also run on the committee basis, a system that I would promote in Cheshire East. I also served as a Magistrate until my move to Wilmslow.
Why have you decided to stand for the Town Council and Cheshire East Council?
Having worked for many years running the town's annual Wilmslow Show, I was delighted to be given the opportunity four years ago, to serve our community as a member of the Town Council. (Again unpaid)! I thoroughly enjoy the work of the Town Council, where even though it is limited in its remit, I do believe we make a difference to our town and its people.
However, there are certain very important things which are not within the purview of the Town Council and that's the reason why I am putting myself forward as a candidate for Cheshire East so that I can actually make an even bigger difference on behalf of the residents of Wilmslow Dean. I'm standing for both so that I can also offer myself as a conduit between the two councils.
What do you think have been your biggest achievements as a councillor in the past four years?
I wouldn't like to claim anything as an individual councillor, as one of the special attributes of the last council is that we all worked together as a team with common objectives and aspirations.
One notable success was the council's behind the scenes work to restore the REX as a functioning cinema, which included a major grant from the Town Council towards the lift, which will enable easy access to disabled people.
In the town itself the council can be pleased that it achieved the new toilet block and kiosk in the Carrs, along with its involvement in the outdoor adult gym, also in the Carrs, which was provided in a joint project with Cheshire East and Wilmslow Dean Rotary.
Other things we can be proud of include the Cinema in the Park, the Christmas trees and lights with Santa visiting and the floral displays throughout the town. Our support and involvement also led to the notable success of our town in the Britain in Bloom competition, with Wilmslow now representing the North West of England in next year's national competition. I enjoyed serving on the planning and finance committees and chaired the community and order committee.
What have been your biggest disappointments as a councillor in the past 4 years?
Having been involved in local government in different guises for some time, I was very disappointed in the speed, or lack of it shown locally to many projects by other bodies, including our building and commissioning of the toilet block and the transfer of allotments from CEC to the Town Council, and of course parking! Also it has been extremely frustrating to see many planning applications recommended for refusal or modification by our Town council, being granted by Cheshire East.
What do you consider to be the important issues facing Wilmslow?
With the large number of new houses coming on stream there will inevitably be great strain placed on already stretched resources. The imminent increase in numbers effecting both Primary and Secondary Education requires urgent and innovative action. The burden on existing medical facilities also needs to be addressed. Parking facilities, already a source of much frustration and increased traffic flows will need sensitive action.
Any monies being generated locally by the new homes bonus and Community Infrastructure Levy needs to be spent locally and not diverted to other parts of the county.
What do you hope to achieve in the next 4 years?
Amongst many other things including Educational provision, and a sensible approach to an increase in parking provision including a double story car park at Broadway Meadow, if I'm elected I would I would work to change the present system of Cabinet Government in Cheshire East to a Committee Based system. I already have experience of this form of local government, and believe it to be more open and properly democratic.
What experience and personal qualities will you bring to the role?
30 years working for the BBC was an education in itself and the 15 years I spent in Wilmslow High School went some way to completing it! I have been involved for most of my adult life in voluntary service to the community ranging from serving as a councillor, a magistrate and running the Wilmslow Show. I do enjoy being in the thick of it, and making things happen.
Why should the residents vote for you?
I have lived in Dean Row for 34 years, and have a proven track record of working for my fellow residents. I am passionate about making our town a better place, and will always place the needs and requirements of the residents of Dean Row before any other loyalty.