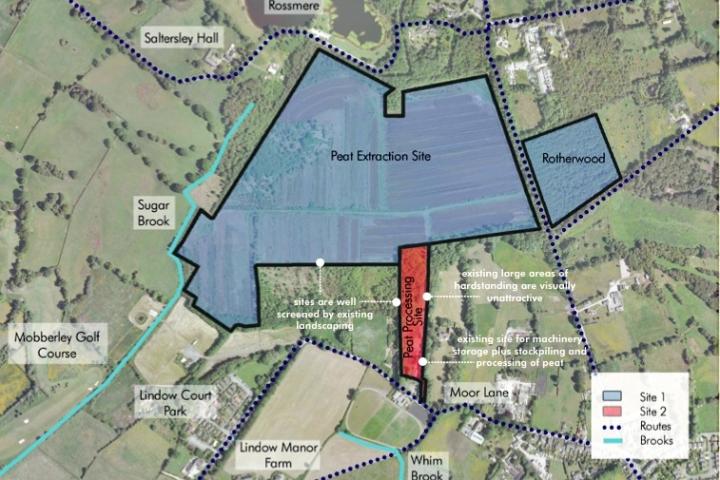 Plans to build 14 detached houses on part of Lindow Moss and restore the 28 hectares peat extraction site to a natural wetland habitat are set to be determined by the Strategic Planning Board next week.
The proposal concerns two planning applications. The first application, reference 15/0064M, is for the 28 hectare peat extraction site and the second application,15/0016M, relates to an area of 1.763 hectares to the south of the peat bog, both of which lie within the Green Belt.
The owners of the land Andrew Rowland and Richard Bond are proposing that peat extraction ceases once planning permission for the houses is granted and Lindow Moss is restored as a matrix of peatland wetland habitats by encouraging the return of native flora and fauna and enhancing the range of habitats which already exist.
The processing area will be replaced with a development of 14 detached family homes.
Planning permission for peat extraction on Lindow Moss was granted by five separate permissions between 1959 and 1967, which expire in February 2042.
The Planning Officer is recommending that both planning applications are approved by members of the Strategic Planning Committee at their meeting on Wednesday, 19th December because, whilst the proposal is deemed an inappropriate form of development in the Green Belt, factors in favour of the development are considered to outweigh the identified harm.
The Planning Officer concluded that "The proposal is an inappropriate form of development in the Green Belt, which reduces openness and conflicts with the purposes of Green Belt through encroachment. There is also harm arising from the loss of trees and woodland on the site, the impact on highway safety, the absence of any significant variation in house types and the design and layout of the proposal not being in keeping with the established character of the area.
"The factors in favour of the development, including some provision of affordable housing and the very significant ecological benefits arising from the early restoration of the adjacent Lindow Moss, are, on balance, considered to clearly outweigh the identified harm, to amount to the very special circumstances required to justify the development in the Green Belt."
The officer added "Under normal circumstances, this is not a development proposal that would be supported by officers. However, the stated benefits have the potential to be nationally significant, or even of "European Importance." Therefore, on balance, it is considered that the significance of the benefits does outweigh the identified cumulative harm in this case."