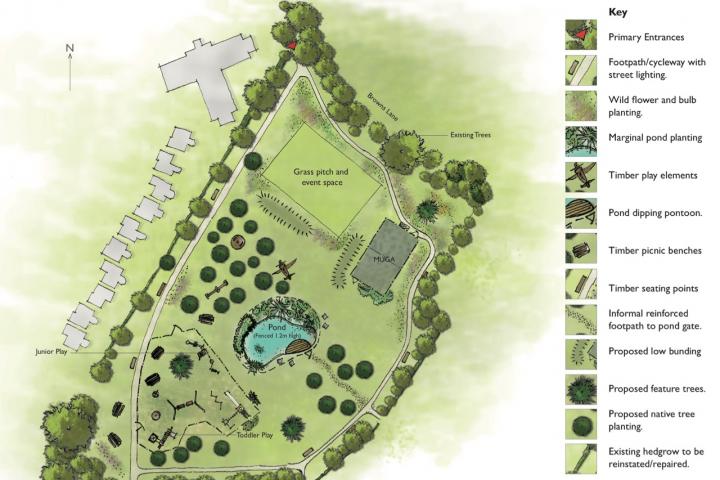 Cheshire East Council is currently consulting on plans to improve an area of open space at Browns Lane.
The proposal includes the introduction of a multi-use games area, play equipment for all ages, a shared cycle and foot path, enhanced pond and drainage system, timber seating and new fencing.
Additionally the scheme includes the planting of Hawthorn, Alder, River Birch and Oak trees along with mixed bulbs and wild flowers.
The improvements to the Browns Lane Recreation Area are being funded by S106 contributions in connection with a number of housing developments within the Dean Row ward.
Councillor Toni Fox said "It has been a long haul, exacerbated by issues with drainage on the site, but I am delighted that this scheme is finally underway.
"Ansa have delivered leaflets to 1,500 properties within close proximity of Browns Lane Recreation Area informing them of the proposed Masterplan and all residents are invited to comment on the proposals for the site.
"The consultation will remain open until the end of September and all the comments submitted by residents will be considered prior to the scheme being finalised."
She added "The Final Masterplan will require planning permission and, as with any other planning application, residents will additionally have this opportunity to submit comments on the proposals at this time."
To view the design visit the Cheshire East Council website and select the link for the Browns Lane Masterplan Consultation.
If you would like to comment on the scheme email [email protected].
Tags: