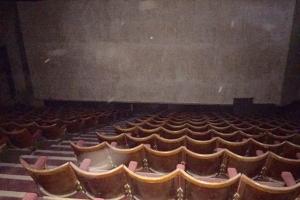 As reported on wilmslow.co.uk earlier this week, Wilmslow Town Council is exploring the options for turning the Rex building back into a cinema as well as an arts and community space.
Following the recent closure of Multiyork, local residents have been calling for the cinema to be brought back to life and the landlord has confirmed they are looking for a new tenant and are happy to consider the former cinema, where the 330 seats are still intact (see photo), being utilised as a community arts led space.
Wilmslow Town Council has agreed to enter into discussions with resident's groups, potential commercial partners and property agents regarding The Rex building and its potential as a cinema, arts and community space.
In the meantime, Wilmslow resident Khumi Burton contacted the Curzon Group to bring the potential opportunity at The Rex to their attention.
Curzon currently operates 12 venues across the country, including one in Knutsford which it opened in 2013 following a £170,000 refurbishment.
Unfortunately the company has confirmed that due to plans to refurbish and expand some of their existing cinemas, including the Knutsford venue, they would not be in a position to consider opening one in Wilmslow.
Robert Kenny, Director of Cinema Development at Curzon, said "Thank you for your recent communication bringing to our attention a potential cinema in Wilmslow.
"We already have a plan to invest a substantial amount of finance into improving our existing cinema in Knutsford this summer and because of this would be unable to pursue the Wilmslow opportunity."
Would you like to see The Rex building restored as a cinema and arts complex? Please share your views and ideas via the comment box below.
Tags: