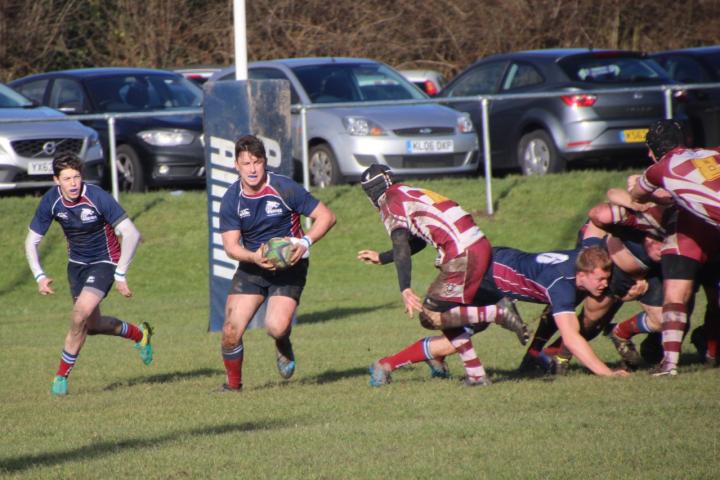 Saturday 17th. February 2018
North 1 West
Rochdale 5 – 24 Wilmslow
When Wilmslow make their annual visit to Rochdale's ground on the edge of the Pennines, they are usually greeted by volleys of driving sleat and near freezing conditions. This time conditions were benign, there was a hardly a breath in the air and, if it would stretch the imagination a mite too far to say there was a hint of early spring warmth, at least, the biting cold of the previous few days were absent. The pitch too, although heavy and sticky, was well covered in grass and in excellent condition for the time of year.
After Wilmslow's toothless display at Manchester the preceding week, coach Rick Jones was looking for a response from his players. Training during the week had been positive and he had been able to select his strongest pack of the season.
Behind the scrum both his first and second choice No. 10, Bob MacCallum and Elliot Rowe were absent because of school skiing commitments so the versatile Ollie Wilkinson stepped in to fill the breach. Clubs need players like Wilkinson who can play in a number of positions. He didn't have a glorious afternoon at Manchester the previous week but seven days can make all the difference and on this occasion, although not faultless, he proved to be a steady pivot with his passing, his kicking out of defence, his tackling and his overall game management.
It no doubt helped that Sean Street was back at scrum half. Street demands the attention of the opposition back row and possesses a fast, long and accurate pass from the scrum and lineout. Jones had also moved Toby Rowe to fullback and this proved to be a good decision. Rowe is at his best when he has a bit of space and time to go through the gears and will always make ground for you in these circumstances. In closer quarters on the wing, he rarely has that opportunity.
Nevertheless, the Wolves didn't have it all their own way, far from it. Rochdale had pulled off a totally unexpected win against leaders Vale of Lune the week before and are in a scrap at the foot of the league with Manchester and Altrincham Kersal to escape the third relegation spot. True, Vale were short handed last week through injuries, suspensions and non availability but it was still a remarkable result for Rochdale and they had approached this game with a bit of belief that they could send Wilmslow packing as well. They had sufficient possession and territory to have made much more of it than a consolation try in the last play of the game. Several clear cut chances went begging in the first half when the last pass didn't go to hand, an interception was overhauled from behind, a pair of penalty shots went wide and they weren't able to capitalise on a series of Wolves handling errors in their own twenty two. It was against the run of play that Rochdale found themselves fourteen points adrift at half time. Indeed, Wilmslow couldn't get out of their own half for the first thirty minutes of the game. In terms of territory, the second half was far more evenly contested.
The Wolves were back on their own line, thirty five minutes in, desperately defending a Rochdale catch and drive, when they got a turnover. No. 8, Alex Taylor, took it on for about ten metres and the ball then sizzled along the line to left winger Will Maslen, who had space to beat his man on the outside. Maslen has a reputation for possessing a bit of gas and he outstripped everyone to run nearly the whole length of the field for the opening score under the posts. Maslen has come through the club's junior section and he looked a threat every time the ball came his way but he also needs to learn when to pass it and when to go to ground in the tackle so that it can be recycled. In winter conditions, he and he's not the only one need to remember that the over optimistic 50/50 pass hurriedly thrown into space almost always fails to come off.
Half time was approaching when the Wilmslow pack started a series of picking and driving from well inside their own half, which took them to the Rochdale twenty two before they were forced into touch. No bother, they stole the ball on the Rochdale throw and started the drive again, which this time took them to the Rochdale line where a delighted Jack Walmsley got the touchdown. As a bit of forward play, it could hardly have been bettered. The Wolf pack had hinted once or twice that they were capable of this and observers were just left to wonder why they didn't see more of this kind of direct play.
In the third quarter, the Wolves always looked as though they had more to offer and it was from another piece of driving play by the pack in which substitute back row Danny Kennedy was prominent that the third try came. After several phases, the ball was recycled right and with the Rochdale defensive line broken a pass from Richard Hughes out of the back of his hand released Adam Hewitt. It was reminiscent, older readers will remember, of the back handed 'Towney Flip' when the young Gregor Townsend set up Gavin Hastings in Paris for the match winning try all those years ago.
The bonus point fourth try came after a period of pressure on the Rochdale line and at the third attempt from a lineout Max Wortley grabbed the loose ball to dive over. were still ten minutes on the clock but by then Rochdale knew they were beaten. To their credit, they kept playing and helped by two poor clearing kicks from the restart and a missed penalty clearance, they counter attacked again and nobody begrudged them their consolation right at the end.
Rick Jones was a much happier man than he had been the week before. "We scored four very good tries", he said, "Will Maslen with ball in hand stood out, Ollie Wilkinson really stepped up to the plate, our set piece was solid, our lineout a bit mixed but OK, there was a good cameo from Danny Kennedy and it was probably the best that we've seen from 'Wammo' Walmsley but we really do have to work on cutting out all these handling errors. They cost us dear at Manchester and we were fortunate that they didn't cost us the same again against Rochdale. But four tries away from home and a maximum five league points is not to be sniffed at."
Next week the Wolves are at home for a rearranged match against Altrincham Kersal, who have revived in recent weeks and were unfortunate to come away from Northwich with nothing more than one losing bonus point. They will be stern opponents.
Photo: Alex Taylor has Sean Street outside him as he breaks from the base of a scrum.
Match report by David Pike.
Tags: