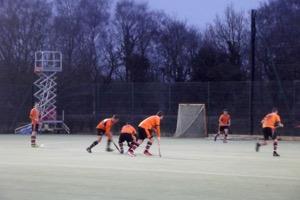 Wilmslow Mens 1st - 3 City of York Mens 1st - 3
An excellent game at Oakwood Farm saw Wilmslow draw with one of the top sides who beat them by 6 goals earlier in the season.
Wilmslow started the quicker, which saw a misplaced York pass picked up, a passage of slick play and a calm carry round the keeper and finish by Pete Hallinan to make it 1-0 after just two minutes.
Both teams tried to play attacking, with York 'going long' whenever they could to their quick forwards. Following a long ball down the line, York played the ball into the corner of the D which saw all the Wilmslow defenders drawn to the same place, the ball was played across the the waiting York players to tap in to make it 1-1. Not the best defending from the Wilmslow players.
Wilmslow took control of the game for a period, playing quick short passes around the York players. A corner was won which came to nothing as Cam Armstrong opted for an air shot. Shortly after Cam won the ball near the 25yrs line and linked up with Pete Hallinan who again produced a calm finish through the legs of the on rushing GK from an acute angle to make it 2-1.
In the second half York pushed the long early balls which saw chances created and a couple of scrappy goals later Wilmslow were 3-2 down. Goalie Si Pickering played well throughout and was not at fault for the defensive lapses.
Wilmslow stepped up the tempo of their passing again and created a number of corners. The first of which saw Dutch maestro Bastian Steffens stepping up and slotting the ball straight down the middle to make it 3-3. Wilmslow however failed to convert the next 3 corners and the score remained 3-3.
A good point against a decent York team to continue Wilmslow's good form. Some good performances from Defenders Steffens and Dawson and a couple of neat finishes by Pete Hallinan rounding of a good individual performance.
Next week: a trip to Yorkshire and a tough test away at Ben Rhydding.
Other Mens matches
In a match between the top two, James Bell scored the winner in the last few minutes of the game to make it Timperley 2nds 2 Wilmslow 2nds 3. Wilmslow Mens 3rd stay top of the table in spite of a 2-2 draw at home to Chester.. Mens 4th had a comfortable win 6-1 against Timperley to cement second place and an elderly Mens 5th had a useful 2-2 draw against an equally elderly Alderley side.
Ladies matches
Wilmslow go top
Prescot Ladies 1st - 1 Wilmslow Ladies 1st - 5
After too many weeks off, Wilmslow Ladies illness-hit squad travelled to a cold and murky Merseyside in their first game post Christmas.
Despite a rather sluggish warm up, Wilmslow started with pace against Prescot Ladies 1s and it wasn't long before Botha was able to slot the ball in after some deft work by Rachubka, Emilie Kelman and Troup.
Rather prematurely thinking this would be a repeat of the 5-0 drubbing they handed out in the home fixture, Wilmslow took their eyes off the ball and rather fast young Prescot attack soon scored an equaliser. Keeper Lang was alert enough to prevent a second soon after with a great reflex save.
A period of messy play then followed but thankfully Prescot were unable to take advantage of Wilmslow's uncharacteristic loss of composure. The improvised Wilmslow line-up battled on and were eventually rewarded with a flick. Hannah.Kelman deftly sent the keeper the wrong way to reinstate the lead, much to the delight of the team.
A well needed firm but encouraging team talk from stand in coach Edmonds saw the ladies back to their calm and dominant selves in the second half. Now it was Prescot's time to become increasingly frustrated leading to bad tackles, loose passes and repeated turnovers. Wilmslow pounced on their prey and some quick free hits and super smooth passing lead to Man of the Match Botha dancing around defenders to coolly net her second. With the visitors piling on the pressure, a series of long corners eventually found Walters perfectly placed to increase the lead to 4-1.
Prescot pushed high to try to get something back but Westbrook, Fleming, Hunt and skipper Charlotte Kelman stood firm and composed. A quick turnover and counter found Senior deliberately fouled at the top of the D and a second penalty awarded.
Loughlin stepped up to calmly nutmeg the keeper with a rocket of a flick extending the lead to 5-1 just before the final whistle.
With results elsewhere going their way, Wilmslow now sit top of the league with tough competition from visiting Sale to look forward to this weekend.
Ladies 2nds dominated in a 4-0 win against Oswestry 1st at home to stay on top of the table albeit with a game extra played. Ladies 3rds had a good 3-1 away win against Buckley 1st to move up to fifth in the table, still a few points off promotion places. Ladies 4ths coasted to a 6-0 win against Golborne 3rds to consolidate second place.
Match report by Steve Kinsella.
Tags: