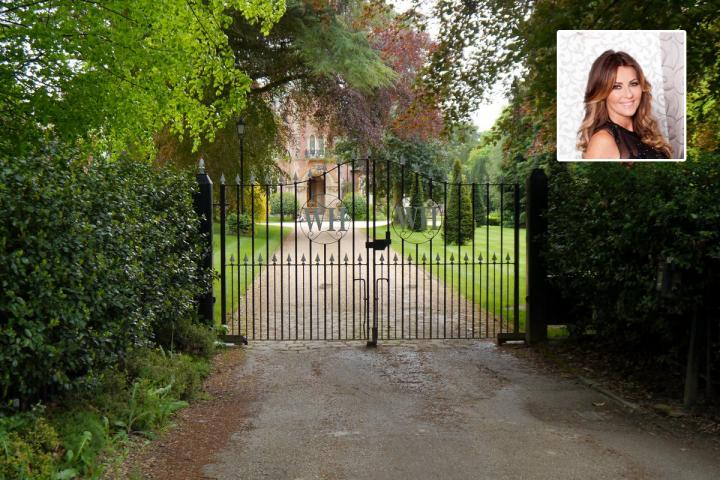 Villagers in Great Warford are uniting in opposition to plans to create a conference and wedding venue at Warford Hall, which they have termed 'Party Warford'.
Around 150 local residents have objected to the application from Dawn Ward, star of The Real Housewives of Cheshire, and former Premiership footballer Ashley Ward.
Having struggled to sell Warford Hall for the past 4 years they are proposing to change the use from a private residence with ancillary offices for their business to a dwelling with conference and banquet facilities for the hosting of weddings, boot camps and seminars which would attract up to 140 people.
They also plan to provide overnight accommodation for guests attending functions at the hall. Nineteen rooms would be located within the existing buildings, 14 in the outbuildings and 5 in the main house. Planning permission was recently granted, reference 15/2496M, for an extension which would provide the function room and 82 car parking spaces are provided at the site.
The intention is to also offer the guests the opportunity to rent the entire hall for special functions, during which time the Ward family would vacate their home.
The Wards anticipate that 20-30 functions would be held at the hall in year one, potentially rising to 80-100 functions a year - all of which would finish by 12.30am at the latest.
Warford Hall was constructed in the late 19th century and is set in 5.76 acres, of which the Wards own 5.26 acres. It has now been on the market for over 4 years but has generated little interest.
Dawn and Ashley Ward bought the hall 11 years ago and ran their property construction business 'Bilton Ward Developments' from Warford Hall. However, since the recession the business has changed to focus on interior design which has resulted in fewer people being employed at the hall. Therefore they are now looking to start a new business which they feel would build upon the qualities of the property and its setting whilst also providing a high quality living environment for their family. The business is expected to create 8 full time jobs.
Local residents are objecting on the grounds that it would be inappropriate in a quiet, rural village and that it would have a very negative impact on the residents of Great Warford. Many of them have raised concerns about noise disturbance and an increase in traffic on narrow lanes.
One resident of Merrymans Lane said "These proposed plans will also lead to intoxicated people around the village. This is a beautiful village and we do not want intoxicated people causing problems and disturbances for the local residents."
Another resident said "The proposed Wedding Venue at Warford Hall will undoubtedly spoil the tranquil, rural, peaceful village of Great Warford, please, please think of all the residents of Great Warford, who have chosen to live in this quiet rural village and reject this application."
The parish councils of Little Warford, Nether Alderley and Great Warford have all objected to the application.
When Great Warford Parish Council discussed the application at their Planning Committee meeting last year over 40 residents attended, all but one (the applicant) who attended were against the application being granted.
In their letter of objection they stated "The Parish Council feel their duty is to reflect the views of the residents who have all made a lifestyle choice by living in Great Warford, a quiet, semi-rural village. They are mindful that if such a change of use is granted it will be permanent."
"The Parish Council estimates that thirty-five properties will be most affected by the proposed change of use, but the increase in noise and traffic will also affect a large part of Great Warford and neighbouring parishes. Warford Hall is not a grand estate with significant land but a four/five bedroomed historical house in the green belt."
The planning application is scheduled to be determined at a planning committee meeting on Wednesday 1st June which local residents are being urged to attend.
A letter has been distributed to local residents saying "The last opportunity we have to display our feelings about the Ward's plans will be at the planning meeting on 1st June. Just one of our members will be allowed only 3 minutes to put our case for refusal; however we feel that by our very presence we may hope to display to member of the committee, the strength of feeling their is against what could change forever the character of our peaceful village community."
The plans can be viewed on the Cheshire East Council website by searching for planning reference 15/4515M.