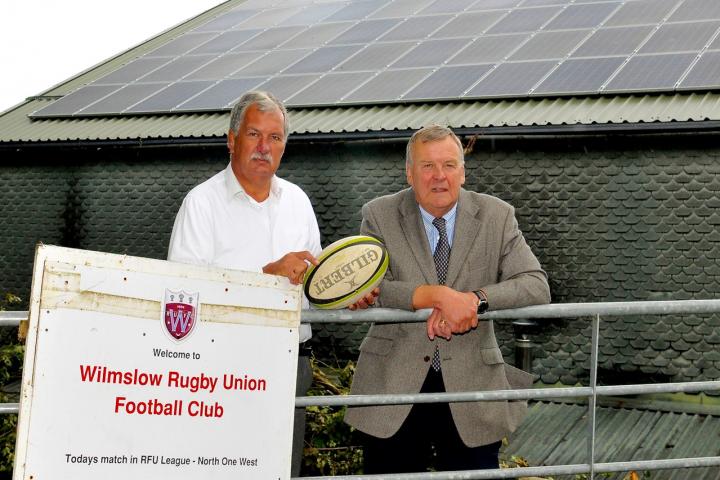 Wilmslow Rugby Club has gone green with a solar array that will save tens of thousands of pounds.
The club, which has been named one of just 500 RFU sponsored Lead Up and Legacy Centres in England in Rugby World Cup year, is renting out the roof space for a solar array and investors are ensuring they pay no more than 6p per kilowatt hour for their electricity when the sun is in the sky.
Before the 480-member club signed up for the 20 kilowatt array they were paying almost 11p per kilowatt hour – the savings over 25 years have been estimated at £83,706.
Chairman Jon Hitch firmly believes the projected £83,706 saving over 25 years will ensure the club's future come rain or shine through to the next generation.
He said "The one thing we all know is that energy costs are going through the roof – so fixing a deal now made total sense. For us the savings help secure the future of the club, but we are also keen to do something about reducing our carbon footprint. It also helps put more footprints on the pitch as we'll get more members as a result of having more economic facilities.
"It was very quick once we'd spoken to Martin (Wroe) in his role with Green Energy Commercial and once the deal was done the panels were in place in a matter of weeks. It's working and it's already putting something back into the National Grid and the reduction in costs of electricity will enable us to invest the funds elsewhere.
"Energy costs account for a considerable percentage of what we spend at Wilmslow, so the solar array and our new RFU funded energy saving floodlights should help us make much needed savings."
Jon added "This is planning for our future and will bring in more members – the mini and junior sections of the club are already booming. We have three teams and 10 teams in the junior and minis section.
"We're not wasting money on utility bills now and this is a 20 year deal, so we are leaving a legacy of savings for future generations at the club.
"The new floodlights and the solar array represent just the latest step in the journey and should help the players and their coaches, here to take another step forward in improving the rugby experience at the club."
Chartered Surveyor Martin Wroe, who is also former president of the Cheshire RFU, said "These free fit solar arrays are fantastic for sports clubs, but also brilliant for ordinary businesses. It's a win, win situation and you don't get many of those in rugby let alone in life."
Anyone wishing to inquire about possible free fit for their sports premises can go onto the website www.greenenergycommercial.com or email [email protected].
Photo: Wilmslow Rugby Club Chairman Jon Hitch (left) and Green Energy's Martin Wroe in front of the new solar panelled roof.
Tags: