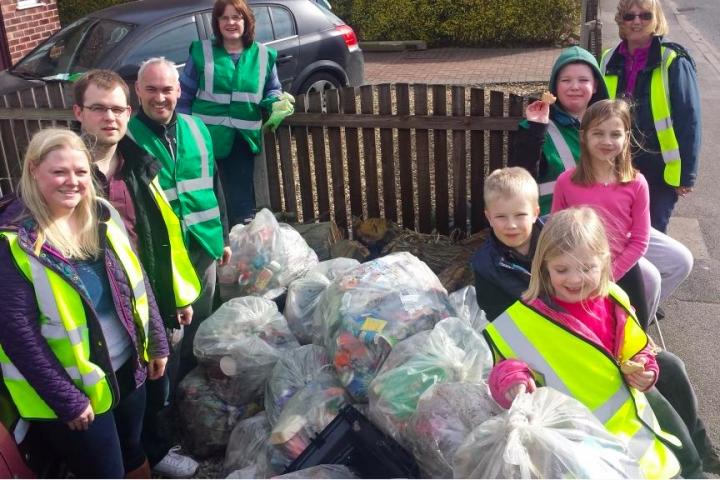 Volunteers from Wilmslow Clean Team got together last week to remove litter from two more areas of the town. This month they focussed on the area around Wilmslow Leisure Centre and Lacey Green Park.
Five volunteers met at the Leisure Centre on Wednesday, 4th March, and collected twelve bags of litter.
Stuart Redgard, Operations & Membership Co-ordinator, said "It was disappointing to see the state of the astroturf football area at the Leisure Centre – 3 bags were collected there alone. There was also a lot of broken glass and laughing gas canisters in that area too.
"The pitch is no longer rented out and it seems that maybe the organisation that runs the Leisure Centre are not taking responsibility for the upkeep of the area."
They also cleared a lot of litter from the border of the Leisure Centre car park and Alderley Road.
On Saturday, 7th March, five volunteers from Wilmslow Clean Team met up with a group from Friends Of Lacey Green Park. The Friends concentrated on the park itself, collecting litter and spraying dog mess yellow - as it presents a big problem in the park. Whilst the Clean Team spread out around the surrounding roads and paths.
Between them they collected twenty-nine bags of rubbish and some other random objects, including the back of a television.
Stuart added "The Friends brought some of their children along. It was great to see them involved in this task, especially as they were all really enjoying themselves and thoroughly aware of the problems litter causes."
So far Wilmslow Clean Team has collected 723 bags of rubbish in the town.
Plans are almost complete for the 2015 Spring Clean Week which will run from 16th to 23rd March, we will publish the details shortly should anyone wish to join the volunteers in their efforts to clean up Wilmslow.