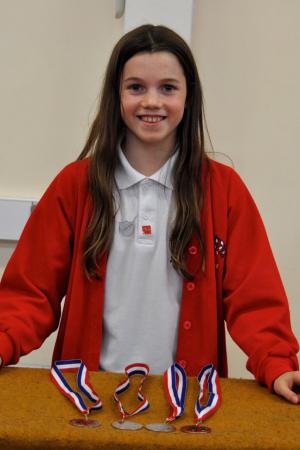 Amelie McKay, Head Girl at Lindow Community Primary School and a member of Wilmslow Gymnastics Club, won 4 medals at the Cheshire and Merseyside 4 Piece Gymnastics Championships.
Amelie competed at the Liverpool Gymnastics Centre of Excellence against other talented gymnasts in the 11 year old pre-novice category.
Her excellent performances were rewarded with a silver medal for balanced beam, silver for bars, bronze for floor exercises and a silver medal for her overall performance.
Lindow Headteacher Darren Morgan said "We are very proud of Amelie's achievement and appreciate the many hours of practice she put in. She is an excellent role model for all Wilmslow children."
Member post by Richard Norris.