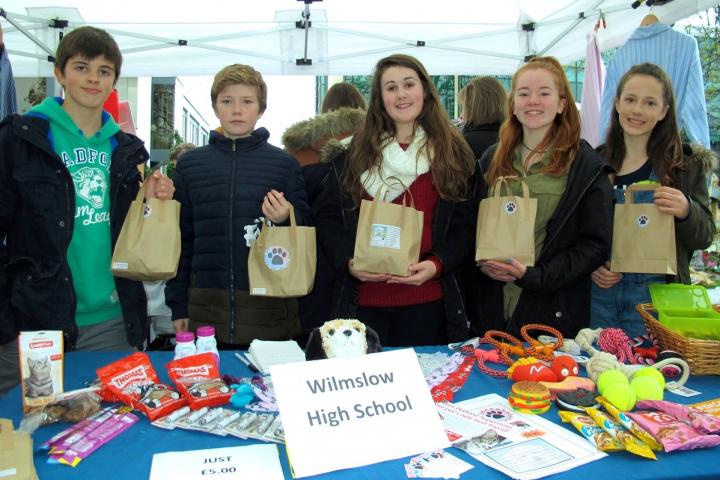 Budding entrepreneurs at Wilmslow High School are confident that that they are barking up the right tree with their pet gift packs entry in the 2014 Manchester Airport Dragons' Den competition.
A team of six Year 10 students has been selected to represent the school in this popular event which is now in its sixth year. The competition sees 23 school teams from across the region choosing, manufacturing, promoting and selling a product which must retail for no more than £5. The overall winner will be the team generating the highest profit. The Wilmslow team came up with a pooch pamper pack called Treatz. This pack retails for £4.99 and contains dog treats, dog chocolates, a collar bandana and a chew toy. The team, consisting of: Lydia Branthwaite, Imogen Young-Lee, Charlotte Makinson, Lewis Hourihan, Ranim Hussain and Brandon Stokes are supported by school staff and a "business mentor" from the Airport.
With the team having made a successful pitch to the Airport Dragons for £100 of start-up funding, production is now in full swing as the team seeks to maximise sales – all profits will be donated to East Cheshire Hospice. Takings at recent school events have been very encouraging and the team believe that Treatz represents the ideal Christmas gift for our canine friends. A cat version of Treatz has also been launched for our feline friends.
Team Operations Manager, Lydia Branthwaite said: "We believe that our pet products are unique in the competition and offer great value for money. We have worked hard on sourcing the products and designing the packaging. We are grateful to local businesses that have supported us, particularly Jollyes pet food store in Congleton. Hopefully lots of cats and dogs in the Wilmslow area will get to enjoy Treatz for Christmas!"
Having had a stall at the November Wilmslow Artisan Market the team will be selling Treatz at the Waitrose store on Church Street on Saturday 22nd November.
Anyone interested in making an order may do so by calling 07716271756 or emailing [email protected].
Tags: