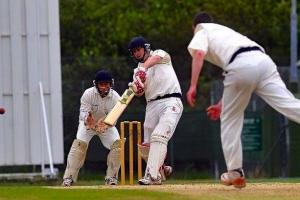 On a damp and gloomy Saturday at Upcast lane, Lindow hosted championship contender Ashton-on-Mersey. The visitors started with lady luck on their side, winning an important toss and electing to bowl first on a relatively soft and green wicket.
A skidding delivery in the first few overs sent Baker (1) back to the pavilion and opened Ashton's account. Tight opening spells from both of Ashton's seamers, who were supported by a strong fielding performance and slow outfield conditions, kept the run rate down to a bare minimum, with just 50 runs on the board by the half-way point.
As frustrations started to build for the home side the wickets began to fall, ending Peel (26) and Christy's (34) efforts before a further flurry of wickets obtained by spinner Roberts (37-5) and Thomason (38-2) left Lindow on a desperate 89 for 9. Walker (12*) and Ramsden (2*) finally managed to take the home side into the points zone finishing the innings on a below parr 103-9.
Lindow's opening bowlers began their spells with optimism as Walker (31-1) managed to strike early taking out O'Gara (0) in the first few overs. However Thomason (39) counter attacked with some big shots that saw the score board racing on before finally falling to Haworth (37-1). Turner (46*) and Kumar (13*) intelligently advanced the visitors to victory in less than 20 overs and left Lindow with another bitter defeat in the final throws of the season.
Match report by David Kendrick.
Tags: