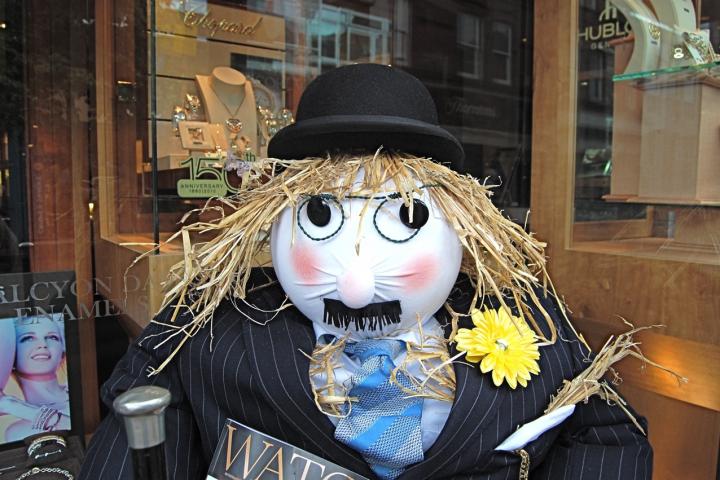 Entries are now open for Wilmslow's second Scarecrow Festival which is set to be a bigger and bolder event this summer.
Due to demand, the Scarecrow Festival has been extended to a full 14 days and the aim is to have at least 200 scarecrows on display with a treasure hunt across the town for families.
Organised by the Wilmslow Dean Rotary Club and the Wilmslow Business Group, the Scarecrow Festival is intended to raise the profile of Wilmslow, attract higher footfall and increase business.
This year's theme will be 'Wilmslow's Got Scarecrow Factor' and all types of businesses can participate, street level and above, as well as churches, police, fire, schools, the library and the railway station.
All you need to do is produce a scarecrow out of straw or paper mache and display it inside or outside of your business.
The scarecrows made by local schools and groups will be displayed in the front window of Hoopers for the week leading up to the Wilmslow Show and there will competitions for both the Best Business Scarecrow and the Best School Scarecrow, with a trophy for the 1st prize - which is new for 2011.
Other additions for this year include a Scarecrow Hoedown & Hog Roast at the Wilmslow Show ground, on the evening of Saturday 9th July, and during that day there will be a Grand Scarecrow Parade with the Batala Samba Drumming band (pictured above).
Rotarian and local businessman Geoff Shelmerdine, who came up with the idea, said "We are not certain of the complete route of the parade yet, but we will definitely end up going down Grove Street and making a lot of noise!"
This year marks the 100th Wilmslow Show and the Scarecrow Festival will culminate there with a grand display of selected scarecrows on a dedicated stand. The final judging will take place at the Wilmslow Show, where it is hoped a couple of local celebrities will be available to judge on the day.
President of the Rotary Club Peter Friend said "We were delighted with the support from Wilmslow businesses last year. Many businesses that did not take part have expressed their regret and intent to display in 2011. We look forward to a bigger and better event, something that will put Wilmslow on the map and bring more shoppers to the town."
The Scarecrow Festival will take place from Monday June 27th to Sunday July 10th. Bookings are now being taken and the fee is £20 per scarecrow entry, which will be used to support local good causes.
Geoff Shelmerdine said "This is a proven win-win event for your business/organisation, the town, local worthy causes and a real boost to morale during these difficult current economic difficulties. Be part of it and sign up today."
The closing date is 31st May, so click here now for an entry form.
For additional information please call Steve on 07766 405301 or Geoff on 07760 194788.
Visit last year's article for a reminder of the fantastic scarecrows which took part in the first Wilmslow Scarecrow Festival.