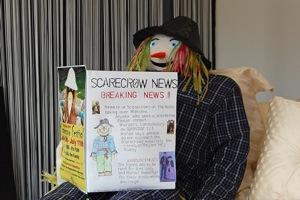 To mark the centenary of the Wilmslow Show and the end of this year's Scarecrow Festival, Wilmslow Dean Rotary's will be hosting a charity "Scarecrow" Hoedown.
The hoedown will take place in a large marquee on the Wilmslow Show grounds on the evening of Saturday, 9th July 2011. There will be a beer festival atmosphere with checked table cloths on trestle tables, seating up to 200 people.
Music will be provided by Bandwaggon, a country and western band who will perform easy to dance to Irish, North American and Canadian music. To get into the swing of things guests will be dressed as country yokels with a prize awarded for the best outfit.
Marianne Martyn, from Wilmslow Dean Rotary, said "This should be a fabulous night out for young and old and at a steal of only £15 per ticket including a hog roast bap!
"Those less fortunate should also benefit as all profits will go to local charities which the Rotary support.
"In order to raise as much money as possible for some deserving causes, Wilmslow Dean Rotary are looking for sponsorship for the hoedown, including both money to cover the costs of the event and donations for raffle prizes which a mystery local celebrity will draw."
If you would like to support the event, or for further information, please email Marianne Martyn.
See our previous article for details of this year's Wilmslow Scarecrow Festival, plans for which are well underway.