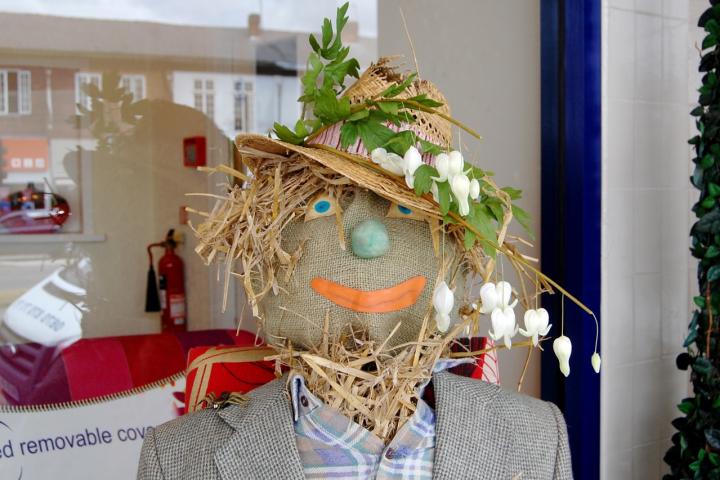 Following on from the success of the Wilmslow's first Scarecrow Festival plans are already well underway for a bigger and better event this summer.
The target this year is for 200 scarecrows, of all shapes and sizes, to be on display around the town from Monday 27th June until Saturday 9th July.
This year's theme will be 'Wilmslow's Got Scarecrow Factor' and all local schools and youth organisations will also be invited to take part. Simon Carr, manager at Hoopers, has agreed that the scarecrows made by local schools and groups can be displayed in the front window of the store for the week leading up to the Wilmslow Show.
The year marks the 100th Wilmslow Show and Rotary will be completely dedicating their stand at the show to the scarecrows. They will be taking a larger pitch than last year and inviting more scarecrows to be displayed. The final judging will take place at the Wilmslow Show where they are hoping a couple of local celebrities will be available to judge on the day.
The Rotary Club of Wilmslow Dean and Wilmslow Business Group, who are organising the festival, intend to make it an annual event and trophies will be awarded in both the commercial and youth classes.
President of the Rotary Club Peter Friend said "We were delighted with the support from Wilmslow businesses last year. Many businesses that did not take part have expressed their regret and intent to display in 2011. We look forward to a bigger and better event in June, something that will put Wilmslow on the map and bring more shoppers to the town."
Bookings will be taken from 1st May and the entry fee will be £20 per scarecrow for businesses, the same as last year, and £10 for schools and youth groups.