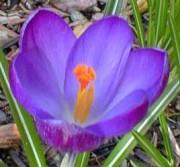 The Rotary Club of Wilmslow Dean are planning to plant 2,500 purple crocus bulbs in and around Wilmslow to raise awareness about polio eradication in the world.
Whilst polio cases have been zero in the UK for many years there are still a number of countries where polio is endemic. In those countries, such as India, mass vaccination days take place and children have their little finger dyed purple to show they have been immunised.
The Ruby Giant 'purple' crocus, which represents the die colour which is dabbed on the children's little finger, are being planted in October so they will be in flower on Rotary Day - 23rd February 2011.
Rotarian Ian Bradley commented "Different generations have different knowledge and memories of polio. For some it is the "iron lung" and for others it is children with callipers or sugar lumps at school. However for the youngest generation in the UK it is just something else they are vaccinated against with no reported cases for some time.
"However, in other parts of the world, polio is still a very real threat for children and with international travel being so common these days there are still threats of different strains of polio spreading into countries which had been polio free. Only when we have completely eradicated polio, like smallpox, can we truly relax."
The Rotary Club are currently seeking final agreement as to the precise location of the plantings in Wilmslow but it is hoped that the majority of the planting will take place on Saturday 2nd October and Sunday 3rd October. The club is also working with a number of local primary schools as part of the project.
Focus on the Crocus is a nationwide project that will get people planting bulbs to enhance their environment and develop their communities. Working in partnership with The Eden Project, the International Flower Bulb Centre in Holland, The National Trust, Learning Through Landscape and others, the Rotary Club plans to engage thousands of volunteers across the country to plant millions of purple crocus bulbs this autumn and hopefully break the Guinness World Record.
More information will be available shortly but anyone wanting further details can email Ian Bradley or contact him on 01625 266761.
Tags: