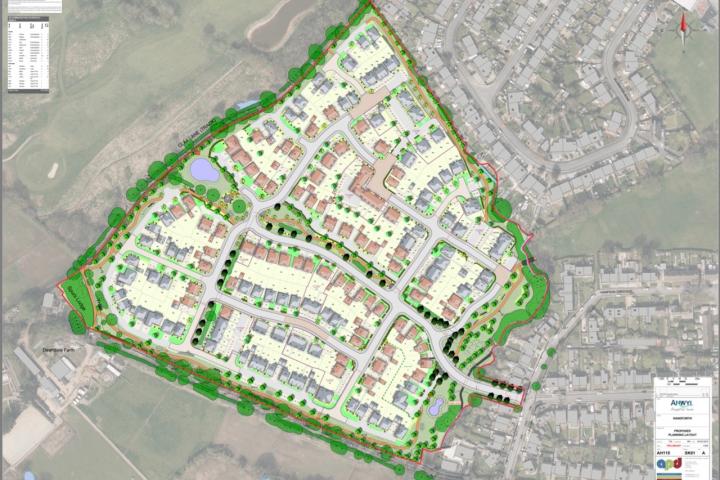 A reserved matters planning application for a residential development on a parcel of land off Meriton Road in Handforth is due to be determined by the Strategic Planning Board next week.
Anwyl Homes, who acquired the 8.35 hectare site between Clay Lane and Sagars Road earlier this year, applied for reserved matters approval (appearance, landscaping, layout and scale) for the erection of 217 dwellings, landscaping, public open space, internal access roads, garages, car parking, and associated infrastructure.
The site was removed from the Green Belt and allocated for residential development of around 250 home in the Cheshire East Local Plan Strategy (CELPS).
Outline planning permission for a residential development of up to 250 dwellings with 30% affordable was approved in 2018 (ref. 17/3894M) as well as access to the site from Meriton Road / Hampson Crescent following the demolition of 15 Hampson Crescent. All other matters were 'reserved' for future approval.
A number of concerns have been raised regarding this development of 217 dwellings, 65 of which will be provided as affordable housing, which includes 19 different house types with a range of one, two, three, four and five bedroom detached, semi-detached houses as well as apartments.
A report prepared for the Strategic Planning Board meeting on Wednesday, 20th November, states that the proposed affordable housing is not considered to be adequately pepper potted around the site and the proposed housing does not provide a mix of housing tenures, types and sizes.
The Planning Officer is recommending the reserved matters planning application for refusal, stating "In terms of open market housing, there is considered to be an over provision of larger 4 bed detached dwellings, and an under provision of smaller units for single people, first time buyers and the elderly.
"As a consequence, the proposal is not considered to be good enough to approve in its current form."
They added "The level of parking for some 4 bed properties does not meet the parking standards within the CELPS. A number of the proposed parking spaces also fall short of the dimensions stated for parking spaces and garages set out in the CELPS. This would force vehicles to park on the road and would thereby be harmful to the visual amenity of the area and highway safety."
The Planning Officer concluded "The provision of 217 new dwellings is clearly a benefit of the proposal, which will make a valuable contribution to the delivery of the Council's 5 year housing land supply. However, it should be noted that 217 dwellings is still a significant shortfall from the allocated 250, and the proposal still does not provide a design that adequately reflects the requirements of the Local Plan or the design guide even at this lower density, which does make it harder to accept.
"Other benefits relating to the development were secured at the outline stage, including 30% affordable housing, and contributions towards improvements to local footpaths / leisure routes, towards recreation and outdoor sports provision, towards healthcare and towards education. The applicants have worked with officers over several months in an attempt to achieve a mutually acceptable scheme, which to date has not been realized.
"It is expected that the applicant will seek to address the outstanding issues in the coming days and further details will be provided as an update. As it currently stands, there is clear conflict with the development plan and supplementary planning documents. The conflict with the development plan identified above is not considered to be outweighed by other material considerations in this case. The proposal is therefore not considered to be a sustainable form of development."
The reserved matters planning application can be viewed on Cheshire East Council's planning portal by searching for planning reference 19/2202M.
Tags: