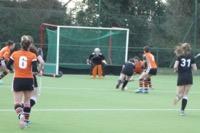 Deeside Ramblers Ladies 1st 0 Wilmslow Ladies 1st 2
Following their victory over Wilmslow at Oakwood Farm earlier in the season Deeside have followed closely in second place. This was Wilmslow's chance open up a gap.
The game was cagey affair with both sides locked in midfield combat and blocked off down the wings. Eventually a mistake by a home defender allowed Emilie Kelman to intercept a back pass and cross into the dee for a shot. The shot rocketed into the corner to open the scoring. Wilmslow pressed hard and tried to get the second before half time but could not break through.
In the second half Lindsay Rachubka, Hannah Coulson and Honey Dickinson all pressed hard but found little joy against the Deeside defence. It took a piece of solo brilliance from Wilmslow's best attacker, Carla Botha, to get the second goal and provide a more comfortable 2-0 margin.
Although slightly nervy at times, the defence of Hannah Kelman, Keira Flemming and captain Charlotte Kelman with ace keeper Cat Lang had kept Deeside at bay all game. However the two goal cushion removed nerves and Wilmslow coasted into a well deserved win.
Ladies 2nd had a thrilling 3-3 home draw with Neston, after twice going into the lead. The two sides are level on points in second and third place, with just 1 goal giving Neston the advantage.
Ladies 3rd beat Neston 3, 3-1 and 4th beat Neston 4, 5-2 to move into second place.
Wilmslow's young 5th team recorded the only defeat of the day, 0-2 to Neston 5.
A profitable trip across the Pennines
Sheffield UB Mens 1 0 Wilmslow Mens 1 2
Wilmslow have had poor returns from their away matches against Yorkshire clubs so this match at Sheffield University was a very welcome three points
The game started evenly as both sides sought to get into their stride.
Sheffield had a good chance to take the lead but their forward struck to post with a deflection and keeper,Si Pickering managed to clear the lines for Wilmslow.
The men in orange took the lead shortly after, when good work from Tom Davenport led to a chance for David Boddy, which he slotted under the keeper into the bottom corner.
Wilmslow took a lead into half time but struggled to get into a rhythm at the start of the second half. Sheffield were building pressure and momentum but couldn't create any clear cut chances as man of the match Sam Dawson led a strong defensive performance from the Wilmslow back line.
Wilmslow repelled a series of Sheffield short corners with excellent short corner defence before they sealed the win with a breakaway goal.
Pete Hallinan combined with Boddy down the right hand side and Jack Wright stormed forward with a 50 yard run from left back to slide in and deflect Boddy's pass to make it 2-0.
Wilmslow held on to their lead and clean sheet to move up to 9th in the league.
In the early stages of Wilmslow Mens 2nd match against Didsbury Northern it looked an even contest but then the tangerines scored. At 4-0 by half time the visitors heads dropped and Wilmslow ran out 11-1 winners.
Mens 3rd won 2-1 to maintain top spot. The 4ths romped to a 9-0 win against Timperley 6th and the 5th beat Didsbury N 7th 3-1 to make it a clean sweep for the mens teams
Wilmslow Ladies 2nd added to Sale's misery by beating their second string 3-0. The 3rds were rewarded for their long trek to play Oswestry 1st with a 1-0 win.
The 4ths beat Brooklands 4s 3-1 and the 5th completed a successful afternoon for the Ladies section by beating Oxton 4s 1-0
Doncaster Mens 2nd 2 Wilmslow Mens 1st 1
Wilmslow men's 1s made the trip to Doncaster hoping for a repeat of their home victory over the Yorkshiremen earlier in the season.
Wilmslow started brightly and began to impose their passing game on Doncaster, who's main threat appeared to be on the break. Wilmslow created good chances and Andy Hunt, Joe Booth and Ben Jones all tested the Doncaster goalkeeper who had a busy first half.
Doncaster took the lead against the run of play with a goal on the break. Simon Pickering did well to keep our and initial shot but could do nothing to stop a rebound. Wilmslow went close to equalising when a short corner was cleared off the Doncaster line.
Wilmslow equalised one minute before half time after a slick passing move which involved almost every player and resulted in captain Ben James finding Hunt unmarked at the back post to deflect the ball high into the goal.
The second half started in a similar pattern to the first, but Doncaster grew into the game and started to apply pressure to the Wilmslow goal. Wilmslow's defence did well to absorb this pressure and a series of short corners were well defended by Wilmslow but eventually the ball crept into the bottom corner from a corner to give Doncaster the lead.
Jones had the chance to level the game late on but was clipped as he rounded the Doncaster keeper and was off balance when he shot just wide.
Wilmslow will be disappointed to lose a game they dominated for long periods and to continue their poor record against Yorkshire sides.
Wilmslow Mens 2nd played table toppers Timperley 2nd and in a closely fought battle managed a 0-0 draw thanks to a penalty flick save by keeper Dean Valentine near the end of the game.
Wilmslow 3rd beat Timperley 4 to go top of the league. The 4th beat Bowdon 7th 5-0 and the 5ths moved up to second place with a 4-1 defeat of Urmston 3rd.
Match report by Steve Kinsella.
Tags: