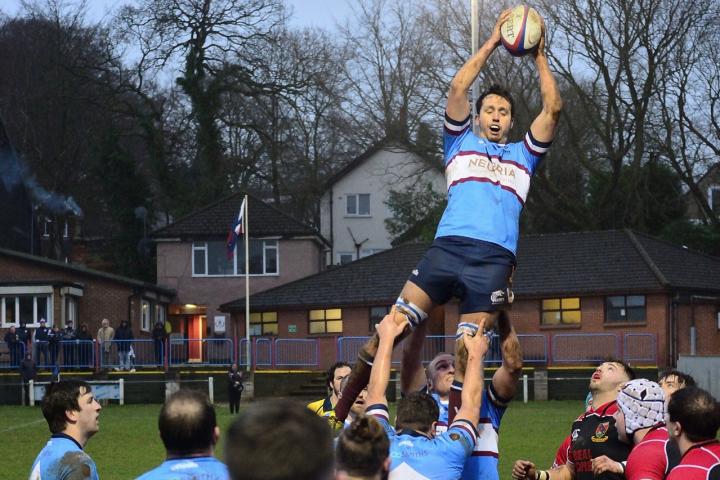 Saturday 12th. January 2019
Northern Premier League
Wilmslow 0 – 50 Hull
It would be easy just to report that Wilmslow were outclassed by a very good Hull side. Everyone had known this was going to be a very difficult assignment against a team nine points ahead of the field in the league and clear favourites for promotion to National 2 North next season. Most of their players have been developed at the club over the last four or five seasons and together have grown to become the outstanding side at this level. They had no intention of allowing Wilmslow to set any kind of banana skin for them.
More important though, from a Wilmslow perspective, would be the manner in which they faced up to the challenge and in this respect, they didn't disappoint. Rick Jones afterwards hailed probably the Wolves' best defensive performance of the season. Only one of Hull's eight tries could be said to have come directly from a Wilmslow error. All the others were the results of their good play. They just possessed pace, power and handling skills, which the Wolves simply don't have. Despite that, the Wolves got stuck in and showed their character. Never once did any of their players even hint at throwing in the towel. Even in the last play of the game when Hull had forty five points on the board, they tackled and defended heroically through phase after phase as their opponents relentlessly drove on, recycled and drove on again and again. It says a lot for the appetite of both sides that even with the match well won, Hull still wanted an eighth try whilst the Wolves desperately wanted to defend their turf to the last. In the end it was a good hiding, of course, no denying that, but the Wolves still came off the pitch with some honour, with their pride intact and if they can retain that spirit, then they may yet salvage some reward from what is proving to be a very difficult season.
I was reminded of the defiant lyrics of the famous Sinatra song which seemed somehow to sum it all up. 'Yes ,....... there were times when the Wolves bit off more than they could chew but through it all, they ate it up and spit it out. The records show, they faced it all, they took the blows and they stood tall!'
The Wolves were the first to show, forcing Hull into a drop out but when the ball wasn't taken cleanly, it was scooped up by the visitors, passed into midfield where a judiciously placed kick was ideal for their right winger Michael Adlard to run onto and to outpace anyone on the Wilmslow side for the opening score. Stand in No. 10 Steve Johnson landed the first of his four first half conversions. Minutes later, they were attacking again. Full back Keane Naylor broke the Wilmslow defensive line and although he was well tackled in the twenty two, his pack were present to drive on and when the ball was recycled, scrum half Robin Watts nipped in for their second score. On the quarter hour, they got their third try through hard running and pin point accurate passing, when there wasn't much space to operate in. No matter, Adlard was present to dot down for his second try.
To their credit, the Wolves then had a decent spell for fifteen minutes or so but Hull have been notoriously difficult to break down all season and despite forcing some good positions, the Wolves just didn't have the ability to finish anything off. Three lineouts in catch and drive positions were well defended by the Hull forwards, who then showed on the cusp of half time exactly how to do it. They broke out of defence with a long kick into the Wilmslow twenty two, forced a lineout and then clinically implemented an unstoppable drive with dynamic body positions and co-ordinated power to produce a fourth try in the corner. Johnson struck the ball imperiously from the touchline to bisect the uprights.
The second half saw Wilmslow just bottled up in or around their own twenty two. The pressure just mounted, they were penalised eight times during this period, Hull not once. A penalty try duly followed. For a while afterwards the venom and edge seemed to go out of Hull's play as they lost several lineouts in succession. Ironically Hull's dominant scrum was also neutralised when Wilmslow's prop Jordan Ayrey had to leave through injury and his replacement Rhodri Lewis promptly got Yellow Carded, leading to uncontested scrums. It was from one of these that a wayward pass by Wilmslow at the start of the final quarter was picked up by Adlard, probably the fastest man on the pitch, for try number six. Hull then moved up a gear for the final few minutes as first No. 8 Joe Stafford and then hooker Thomas Rice touched down to bring up the half century of points.
Nevertheless there were some commendable performances on the Wilmslow side. Nick Barker at scrum half was feisty throughout and never put a foot wrong, young George Witham in the centre was always competitive and hopefully will be one for the future. And there was the normal stuffy effort from Alex Taylor at No. 8. Nobody let themselves down with any downright bad or careless play. When it came though to push and shove, the Hull boys just had so much more in their locker.
Photo: Adam Hewitt catches lineout ball.
Match report by David Pike.
Tags: