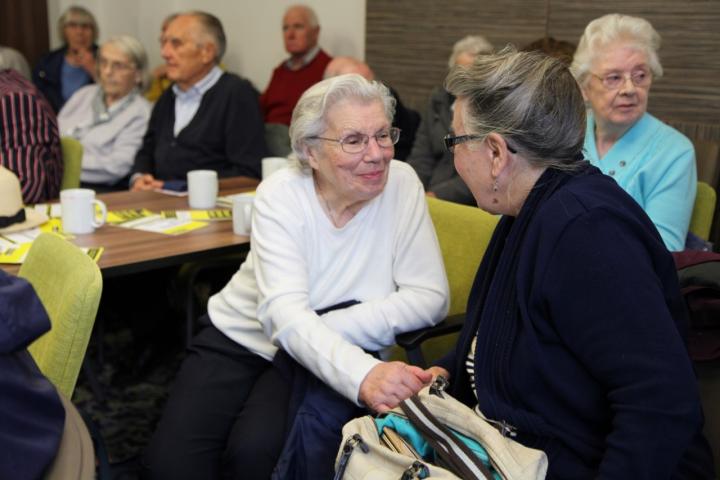 A support group for people with sight loss based in Wilmslow has joined forces with leading sight loss charity the Macular Society.
The Wilmslow VI Group, organised by East Cheshire Eye Society, has become an affiliated Macular Support Group. The group offers information, encouragement and friendship to people who are affected by macular disease and other sight loss conditions.
The group meets on the first Tuesday of the month, from 1pm to 3pm, at Wilmslow Library and its next meeting will be held on Tuesday, 8th January.
Michelle Dutton, Macular Society regional manager, said: "We're delighted to be working in partnership with East Cheshire Eye Society. Groups like this provide a real lifeline to people with sight loss and we want to see as many people living locally using it as possible.
"It's good to be able to learn from each other's experiences and get tips. The peer support can be so helpful. These groups can really help people increase in confidence and become more independent."
Alan Chappell, charity manager at East Cheshire Eye Society, welcomed the opportunity to work closely together. He said: "This will be of great benefit to people living with sight loss in the Wilmslow area."
Macular disease is the biggest cause of blindness in the UK. Nearly 1.5 million people are currently affected and many more are at risk. The disease can have a devastating effect on people's lives, leaving them unable to drive, read or see faces. Many people affected describe losing their sight as being similar to bereavement. There is still no cure and most types of the disease are not treatable. Age-related macular degeneration (AMD) is the most common form of macular disease, affecting more than 600,000 people, usually over the age of 50.
For more information on the group, please email Helen van der Veken, East Cheshire Eye Society services and volunteer coordinator, or call her on 01625 422 602.