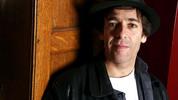 Mark Steel was in town last night to perform his stand up comedy show all about Wilmslow and Alderley Edge.
The show was recorded at the Wilmslow Green Room theatre for the second series of "Mark Steel's in Town" which is produced for Radio 4 and sees the comedian visit six towns, or a pair in this case, to celebrate the uniqueness of each place.
An audience of 86 locals packed the small theatre on Chapel Lane to hear the comedian's take on their home town. Mark warmed up with some general observations about the "avalanche of sameness which is being deposited everywhere", with every town featuring the same shops, a Wetherspoon's pub and "the biggest evil of all Tesco".
The actual broadcast began with Mark describing Wilmslow as by far the most upmarket place they have visited, which probably has a waiting list to get in to and bouncers on every street turning people away who aren't wearing the right labels or driving a luxury car.
The first thing he noticed upon arriving in Wilmslow was the Aston Martin garage, along with 5000 beauty salons, designer handbags and expensive art - making it "the Knightsbridge of the North."
Mark made several trips to the area recently in order to conduct his research, meet local people and explore the history, though the majority of last night's jokes focused on stereotypes. As expected footballers, mansions with so many rooms they have to invent purposes for them and charity shops with designer labels and no price tags featured heavily.
Wilmslow and Alderley Edge certainly aren't amongst Mark's favourite places, he was pretty negative about them but then I suppose socialism and the media image of Wilmslow aren't the best fit. Though he did enjoy his trip up the Edge, which he described as marvellous, adventurous and "the sort of place you might come across a hobgoblin."
During the show Mark spoke with Jane, manager of a Wilmslow charity shop, who remained confidential about which local celebrities had made donations but she did reveal that the most expensive item they have ever sold was a couture coat at £400.
He also chatted with local writer John Wallace, who performed a poem he had written about some colourful newcomers to Alderley Edge, before Mark thanked the audience and concluded by admitting this was "probably the rudest I've ever been about any town."
It was an enjoyable evening, with some very funny gags but a large part of the material focused on the champagne lifestyle so often portrayed in the media. It was predictable and didn't really get across what a great area this is to live with some very friendly, interesting and down to earth people, but I suppose that wouldn't make for good comedy.
Mark Steel's In Town (Wilmslow & Alderley Edge) will be broadcast on Radio 4 on Wednesday April 14th.
Tags: