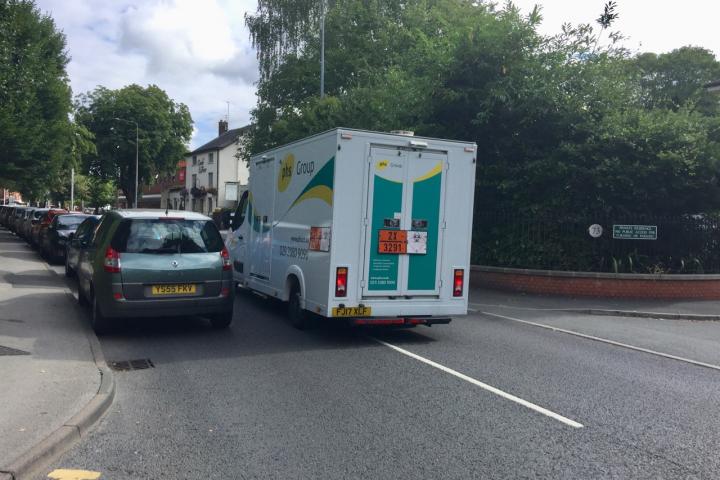 Local residents and one of our ward councillors have express concerns that Cheshire East Council is not taking the parking problems in Wilmslow seriously and that it may take several years to address the problem.
As many readers will be aware cars have now started parking along Alderley Road, between the roundabout and the Coach and Four. As a result we have received a lot of complaints and comments from local residents who are concerned that this 'dangerous' parking will result in a cyclist or pedestrian getting seriously injured.
As a temporary measure the Council has arranged for motorists who are parking in Alderley Road to be offered parking spaces at Wilmslow High School for the remainder of the summer holidays.
Following the publication of a Reader's Letter on wilmslow.co.uk calling for double yellow lines to be installed from the Fulshaw Cross roundabout to Victoria Road, Cheshire East Council has confirmed to one of our readers that they will not implementing any further parking restrictions until a parking strategy for Wilmslow is published.
A spokesperson for Cheshire East Council said "The Council has developed a series of profiles and is currently examining evidence, key issues and opportunities for each area as part of the Local Transport Plan (LTP). A parking study for the Wilmslow are will be undertaken as part of this plan. A public consultation took place on the LTP between 1st May - 25th June 2018 and at present we are analysing the information gathered during the consultation. Further information can be found on our webpage.
"The data collection for the study will be completed this year with the town strategy being developed thereafter. Until this is published we are not implementing further parking restrictions, unless there is an overwhelming evidence-led requirement. This will be based on police collision reports and other sources of traffic data."
Councillor Toni Fox also contacted Cheshire East Council about the parking issue on Alderley Road after local residents approached her about the issue.
Earlier this month, a Cheshire East Council spokesman said: "In line with the recent local transport plan consultation, it is the council's intention to undertake place based parking studies, to understand issues and develop and implement plans for each location.
"This will be an evidence-based approach designed to balance and manage the accessibility requirements for residents, businesses, shoppers, workers and commuters. The proposal is to deliver this work in a three year programme, starting in Wilmslow, once funding is available."
Cllr Rachel Bailey, Leader of the Council, wrote to Toni Fox saying "Further to the press statement (above), we are working with partners to progress the start of the survey and we will explore all options to help residents within the town."
Councillor Toni Fox said "Unfortunately a 'three year programme' starting 'once funding is available' is not going to help motorists or re-assure residents that Cheshire East Council is taking the severe parking issues across Wilmslow seriously."
The campaign group Residents of Wilmslow (RoW) has also written to Cllr Rachael Bailey asking for a prompt solution to the parking problem along the stretch of road from the Kings Arms roundabout along to the entrance to Sainsbury's and calling for temporary action to be taken.
Cllr Rachel Bailey, Leader of the Council, replied to RoW on August 8th saying "Cllr Menlove and Cllr Brooks have both raised this matter with me. Further to the press statement below, we are working with partners to progress the start of the survey and we will explore all options to help residents within the town."
Manuel Golding of RoW said "Alderley Road is a matter of extreme urgency that requires immediate action to avoid continuing traffic snarl ups and danger to road users, pedestrians and cyclists.
"RoW was assured some two and a half tears ago there was a Wilmslow parking survey overseen by the then Deputy Leader, David Brown, when RoW asked Rachel Bailey how that was progressing she and Kath O'Dwyer both knew nothing about it.
"We were then promised a second survey under Don Stockton and again Rachel Bailey told RoW she was not aware and now we are supposedly on yet another (phantom) survey.
"We need action now on Alderley Road, not in 6 or 9 or 18 months hence."
He added "How difficult can it be for the council to instigate either a 'temporary' or 'emergency' restriction order for this road? How willing is the council to consider voters concerns now? If it doesn't act now, without any further delay, we will know just how inept and non caring this council's leadership is."