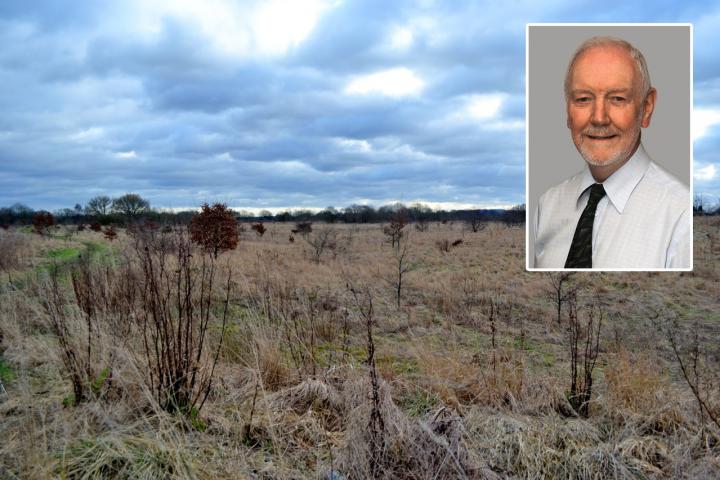 A Handforth councillor has criticised the government's decision to back the plans to create a new garden village on the eastern edge of Handforth and says the site will prove unattractive to both developers and residents.
As previously reported, the government gave their backing on Monday, 2nd January, for 14 new garden villages including the North Cheshire Garden Village. The controversial scheme for up to 1650 new homes, community facilities and space for new businesses will be located on Green Belt land near to Handforth Dean, between the A555 and the A34.
Councillor Barry Burkhill told wilmslow.co.uk "The Government can provide funds for attracting developers to build this North Cheshire Garden Village in the important strategic greenbelt between Handforth and Stockport but breaking the boundaries between us and Greater Manchester with this bribe and calling it by a fancy name is not going to encourage developers to build if they cannot sell the houses.
"Who is going to buy a house which takes them two or three hours to reach from work in the evening after a similar journey in the morning? Who is going to buy or live in a house which, due to the traffic pollution of the atmosphere, will increase their chances of getting Alzheimer's disease?
"This is the scenario today without these 1500 houses, which seem to have passed the inspector without any comment in his interim letter of 13th December. Do the ruling group on CEC not realise that building houses in this strategic greenbelt will lead to the loss of Handforth, Wilmslow, Poynton and perhaps other northern towns, into Greater Manchester, to which the new cross border Parliamentary Constituency is pointing?"
Councillor Burkhill added "Developers do not want to build on this area of greenbelt because of the uncertainty of building houses which don't sell, at least not to homeowners who will look after their properties and the surrounding environment.
"There has been a huge amount of opposition to both this site and site CS 49* in the CEC ruling group's Local Plan Submission but the inspector seems to have ignored all the voices and hundreds of letters of opposition and warnings of traffic chaos making Handforth residents' lives a misery in order to provide money for the Congleton By-Pass. Has this funding been known for some time in Government circles and by the inspector so that he is obliged to pass it in the Local Plan?
"The result in people's minds is, what is the point of consulting the public if they are to be ignored? Is it any wonder that the public then lash out at the establishment when they get the chance!"
*CS 49 - Land between Clay Lane and Sagers Road which has been identified in the Local Plan for a development of 250 new homes.
What do you think of plans to build a new garden village off the A34 Handforth bypass? Share your views via the comment box below.