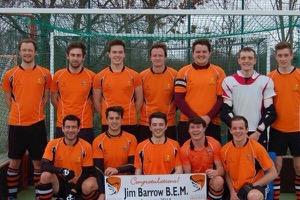 Brooklands 3's were the next team to be welcomed on an action packed afternoon for Wilmslow Men's first team. Boasting a number of players who are capable of playing in higher Brooklands teams, Wilmslow knew they would have their work cut out to maintain their 100% record.
It was Brooklands who drew first blood after an award of a penalty corner was expertly put away by Darius Virabi. They were not in front for long though when Bastiaan Steffens was able to make the most of suspect keeping with a penalty corner flick of his own. The ever present Pete Hallinan on the penalty corner defence team was unable to keep out an effort which hit his body resulting in a penalty stroke towards the end of the second half, Virabi getting his second of the game scoring past Adam Ford in goal, who arguably provided the best after teas known to man. 2-1 Brooklands remained the score line until half time.
Within 30 seconds of the restart, Paul Hallam was able to find some space in the Brooklands 'D' after good work down the right wing and was able to melt a ball in to the bottom left corner, to bring Wilmslow back into the game, 2-2. Wilmslow were pegged back for a third time after a second penalty stroke was awarded for one of the most horrendous tackles you are likely to see from a Wilmslow player in the shape of Chris Berkon.
This time it was Iain Cherry who stepped up to make Berkon feel even guiltier than he already was. This was the catalyst prompting an excellent spell of hockey by a Wilmslow. Continuing pressure resulted in a penalty corner that Steffens was able to put away for his second of the game and with strong work from Martin Wright in the 'D', he was tackled to the ground. Some say he dived, some say he was fouled, those closest were distracted by the noise created so were unable to comment either way. What was a certainty, was Steffens being able to complete his hat trick with a fantastically disguised flick.
All of a sudden the game was turned on its head with Wilmslow leading 4-3. The ever free scoring Wilmslow were not done however. After good interplay between Andy Hunt and Steve Edmonds created a shooting chance, Sam Dawson was able to make a 40 yard run to the near post and deflect the ball in to the goal finishing the scoring for the day to win the game 5-3. The Wilmslow men again showed great character against a very good Brooklands side. Next up is Deeside Ramblers 2's away.
Elsewhere, a solid team display saw Wilmslow men's second team maintain their strong start to the season with a comprehensive 4-1 success over local rivals Alderley Edge. In a cagey opening where both teams struggled to carve out clear-cut chances it was Wilmslow who found their feet first and took the lead, Ric Pheiffer's slide rule pass finding James Bell at the back post who made no mistake.
Wilmslow were caught cold by Alderley early in the second half. Recent addition from Macclesfield James Allmand-Smith levelled matters with a fine solo effort, but once Danny Large shrugged off an injury and returned to bolster the defence, and Jack Wright was switched to a more attacking role, Wilmslow quickly reasserted their superiority. Wright scored from a tight angle with a spectacular volley and then Pheiffer got his name on the scoresheet with a trademark finish, before again turning provider, squaring the ball for Matt Bonner who ended his goal-scoring drought as Alderley wilted. With a home match against mid-table Sale next up, Wilmslow will be hopeful of securing another three points to keep up the pressure on the league leaders.
The men's third team convincingly beat Stockport Bramhall 5-1, however the Ladies first team were unlucky to lose 1-0 to Deeside Ramblers. Nevertheless, the U15 Boys beat Triton 8-1. A full weekend of fixtures resumes next week following a half term break.
Match report by Amy Bracegirdle.
Tags: