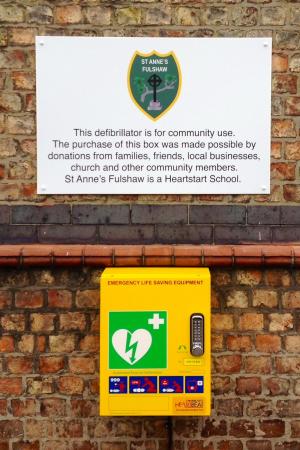 A defibrillator has been stolen from St Anne's Fulshaw CE Primary School.
The device was sited on the outside wall of the school, just inside the car park on Nursery Lane, so it was available to the community 24 hours a day.
Last year, Headteacher Clare Daniel applied to the British Heart Foundation to be a Heartstart school which entailed making a commitment to training all the children in the school in first aid and basic CPR through a rolling programme of sessions. In return they were provided with a free defibrillator.
She said "Having the defibrillator in school meant that it was available during school hours but sadly not for the rest of the year, and as a school we felt very strongly that it was a resource that should be shared with the community. So we began a year of fundraising to pay for the box and installation - this required funds in excess of £1500!"
The defibrillator was taken from the box some time between 3pm on Monday, 14th December and 8am on Tuesday, 15th December.
Wendy explained "The box wasn't forced open, someone had got hold of the code as it is the only way you can get into the box. We've checked with the police and ambulance service and there is no record of a 999 call. It is very upsetting especially with all the fundraising we did and it is of no use to anyone.
"The police told me there have been incidents of defibrillators being stolen across the UK but we are the first establishment in Cheshire that it has happened to."
Sara Harris of North West Ambulance Service has been into the school today and they will be loaning St Anne's a temporary defibrillator and she confirmed that Millie's Trust, a charity that aims to make First Aid training available to everybody, has kindly agreed to donate one to the school.
Sara, who organised a ball to raise the funds for the defibrillator said "I am devastated to hear about this life-saving equipment being stolen. It's £1000 worth of equipment that was there for the community.
"It will be replaced short-term by North West Ambulance Service and long-term by Millie's Trust, so a big thank you to Millie's Trust."
Ms Clare Daniel, Headteacher, added "The school has been overwhelmed by the support of local people and organisations, offers of help to replace the defibrillator and to publicise the theft in the hope of finding it. We are so proud to serve a community that is so kind and generous."
The defibrillator is a CR+ type with the serial number 41744880. If anyone comes across it having been discarded, or has it 'donated' to their organisation and recognises it as stolen, please contact the police on 101 quoting incident number 171 of 15/12/15. Alternatively information can be given anonymously by contacting Crimestoppers on 0800 555 111.