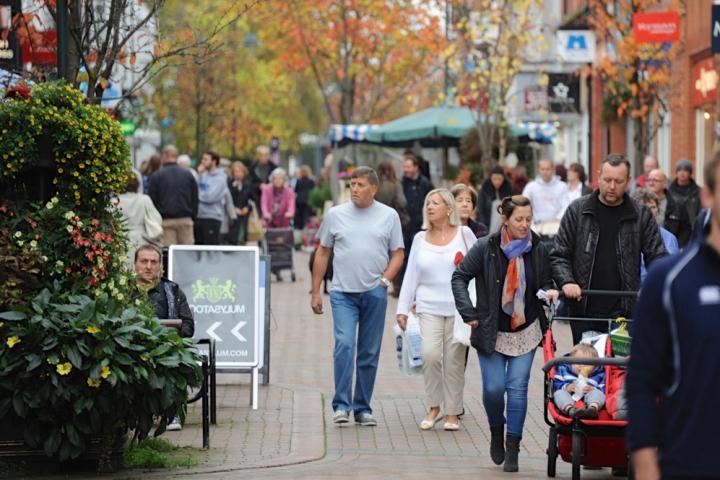 Wilmslow Town Council has agreed to continue to provide financial support for the Wilmslow Business Group's Events Team. This will enable them to extend the events programme next year to include a Wilmslow Food & Drink Festival and Community Awards.
Councillors approved a grant application of £9000 at their meeting on Monday, 17th November, which will be match-funded by Wilmslow Business Group.
In March 2014, Wilmslow Town Council matched the Business Group's funding of £7000 which enabled them to employ two part-time members of staff.
During 2014/15 they plan to run four events with the objectives of: making Wilmslow a place to be proud of; deliver value for money, exciting and innovative events for Wilmslow residents; showcase Wilmslow businesses and attract people into Wilmslow from the surrounding area.
This year the Events Team helped deliver the 'Growing for Gold' campaign and the inaugural Art Trail. They have also organised the forthcoming Santa Dash and have worked with Wilmslow Town Council to organise the Christmas lights switch on.
For 2015, the Business Group has increased the number of events planned from four to five which will include two brand new events - the Wilmslow Food & Drink Festival in March 2015 and Wilmslow Community Awards.
The Wilmslow Food & Drink Festival will be marketed as 'A Taste of Wilmslow - Dine the World' and include wine and beer tastings, cookery and cake decoration demonstrations, special events for school children and themed events with entertainment at local restaurants.
Wilmslow Community Awards is designed to "galvanise the whole community" and celebrate those Wilmslow residents who work tirelessly to make a positive difference to Wilmslow, including volunteers, community leaders, community organisations and local businesses. The awards programme will be launched in the Spring of 2015 and culminate in an awards ceremony in early November next year.
The Events Team also plans to organise another Wilmslow Art Trail, which will run for three instead of two days in June next year and feature more artists and locations around town. Following on from the success of 2012 and 2013, the Wilmslow Motor Show will return on 12th September 2015 and a calendar of events will also be put together in the lead up to Christmas.
The long-term aim for the Events Team is for them to be self-financing by generating an income through sponsorship of the events.
Following a presentation from Catherine Mackenzie, Chairman of WBG, Cllr Ruth McNulty said "In a very short space of time I think the Events Team have demonstrated just how effective they can be and more than that they have produced a really imaginative programme that's really promoting Wilmslow and its creativity, and I like the idea that you're bringing in sponsorship funding too. I thoroughly support this grant application."
Tags: