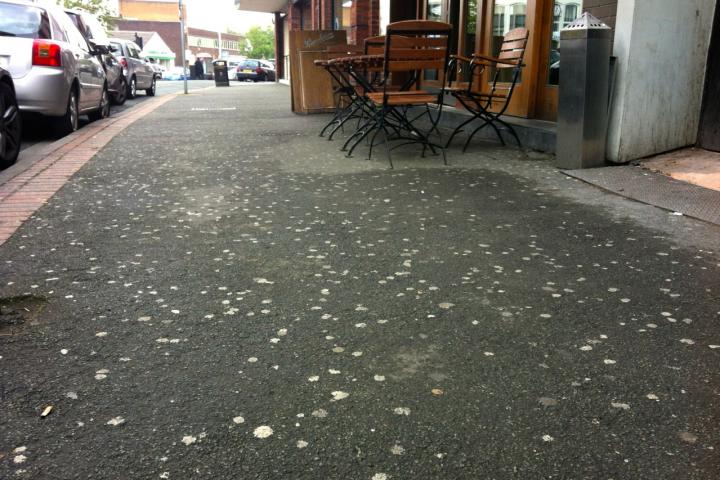 Wilmslow Town Council has investigated the costs of having chewing gun removed from Grove Street and along the pavement outside the shop frontages from Costa Coffee to Hoopers on Alderley Road.
They approached three companies for quotations and received quotes for £4,450, £4,750, and £5,500.
In order to clean these pavements the companies would need to work at night and estimate the work would take 5 to 6 nights to complete. They would also need to clean the entire pavements, rather than just the sections covered in chewing gum.
Wilmslow Town Council discussed these proposals at this month's meeting, where it was noted that if they went ahead this project would use up about half of their entire maintenance budget for the year.
Town Clerk Matthew Jackson commented "My concern is that it seems an awful lot of money for something which I suspect would be as bad again in 12 months times.The gum is on the Alderley Road site is not on particularly attractive pavement so when we actually remove it we're still going to be left with unattractive pavement.
"It is a little bit different on Grove Street but the reason why it's so expensive is that they have to do it at night because it is a rather noisy and messy operation and they have to do the all of the pavement, they cannot just do where the gum is otherwise you'll be left with patches."
Cllr Ruth McNulty added "My feeling is it is very expensive and too big a proportion of our maintenance budget."
Councillors decided to approach Cheshire East Council for match-funding for the work to be carried out on Grove Street and leave Alderley Road for now. They will revisit this issue at the next committee meeting.
What do you think about having the chewing gum removed from these two areas? Would you consider it money well spent, or not? Share your views via the comment box below.