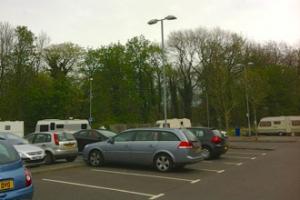 A group of travellers who set up camp in Broadway Meadow car park have been served with a court order to leave by tomorrow evening.
They arrived on the Council owned land near Wilmslow Leisure Centre on Thursday 17th April and six caravans and six vehicles have been parked at the end of the car park since.
A spokesperson for Cheshire East Council said: "A group of Travellers, consisting of six caravans and six vehicles are currently based on the car park at Wilmslow Leisure Centre. They arrived there last Thursday.
"Council officers have visited the location and we are now moving forward with the legal process to secure possession of the site.
"They were served with a notice to quit yesterday, but were still there today. They have now been served a court order to leave the site by tomorrow (Friday) evening."