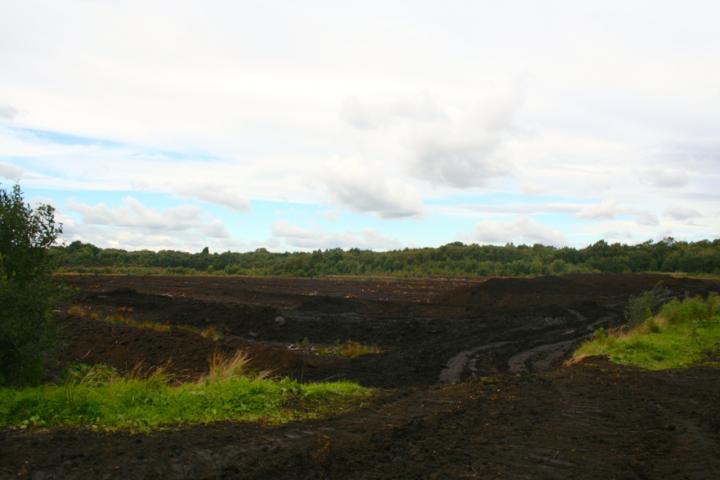 On Thursday 3rd April, Transition Wilmslow hosted a workshop at the Quaker Meeting House in Wilmslow to bring people together and discuss a new way forward for Lindow Moss. Over 50 people attended, from local councillors, to English Heritage, Cheshire Wildlife Trust, Manchester Museum, Environment Agency, and other interested parties thanks to local publicity.
Professor John Handley talked about the formation of the Moss (a much bigger area than that known as Lindow Common), and how the exploitation of the peat for fuel from the Middle Ages onwards created distinctive field boundaries called moss 'rooms'. He described it as "One of the best preserved landscapes of its type in Britain and yet, astonishingly, it is not protected by designation of any kind."
Tony Evans, Chair of the Saltersley Common Preservation Society (covering Lindow Moss), spoke about the apparent infringements of the planning conditions by the peat extraction companies, leading to a lowering of the water table, and effects including near-disappearance of wildlife such as water voles, and subsidence of houses in the area.
Groups looked at education, landscape restoration, access and usage, and ecology to identify possible steps to restore the Moss and were reminded that this year is the 30th anniversary of the finding of Lindow Man. The building buzzed with lively conversation.
By stopping the peat extraction the moss could recover and what Prof Handley called 'keystone species' could re-colonize the wet areas. The Workshop established that Lindow Moss is a key link in the chain of lowland bog habitats, which connects Shropshire to the south with the Mersey Basin to the north. If rare plants, animals such as water voles, and birds and insects returned, the moss could become a centre for bio-diversity, eco-tourism and education, as well as valuable carbon capture as it would absorb more greenhouse gases than it is emitting.
The participants agreed that the vision for Lindow Moss should be:
An area for recreation and exercise for all ages - on foot and where possible, bicycle, horseback and wheelchair
Cessation of peat extraction and restoration of the peat working area to create an attractive natural habitat and to re-establish it as a carbon sink.
Protection of the wider Lindow Moss landscape.
Creation of an area where flora and fauna (including native water voles) can flourish and be appreciated.
An educational resource where the rich natural and human history of the Moss, including Lindow Man, can be studied and appreciated.
A local green tourism destination bringing economic developments to the Wilmslow area.
Recognition of the moss area as a Green Infrastructure Asset and lung for Wilmslow.
For Transition Wilmslow, the project brings together many of the strands that they are about: local community, biodiversity, food, education, carbon, resilience and legacy for future generations.
Transition Wilmslow will be exhibiting A New Vision for Lindow Moss at the June Artisan Market and at The Wilmslow Show in July. Everyone is invited to come and talk about this exciting project.
There will also be a day school on 18th October 2014 arranged through the Wilmslow Guild, and led by Prof. John Handley.
Guest post by Florence Collier.
Tags: