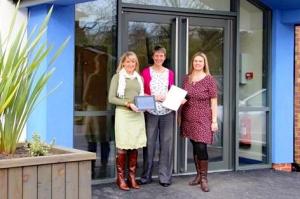 A primary school held an open morning this week to launch its newly linked building and recently purchased iPads.
Ashdene Primary School invited parents and members of the local community to view the two new link corridors which join the school under one roof as well as the new, more open entrance opposite the gates, which contains the school offices.
The school has also purchased 70 iPads to enhance teaching and learning for children of all ages, the cost of which was match funded by the PTA.
The recent changes at Ashdene were recognised in their OFSTED inspection in January 2014 which confirmed that "the school has improved and is set to improve even further".
Lyn Simmons, Bursar at Ashdene Primary School, said "The safety of the children was deemed paramount when the decision to link the three buildings was first made. Now all the classrooms are joined, once the children are in school they do not need to leave the comfort and safety of the building.
"The school office has been moved to create a prominent, welcoming, 21st century entrance for parents, staff and visitors to report to. This has eased confusion significantly about where to go when coming through the new automated school gates which were also added to enhance traffic management and safety."
Lynn added "This was also an opportunity for the school's senior leadership team to meet with parents to keep them informed about recent and future developments in all areas of school improvement from behaviour and safety to the quality of teaching and the design of the new curriculum."
Parents were also welcomed into the classrooms on Wednesday, 26th March, as the iPads were used with the children for the first time.
Photo: Members of the leadership team: (l-r) Mrs Grass, the Inclusion Manager, Miss Brookes, Headteacher, and Mrs Mather, Deputy Headteacher.
Tags: