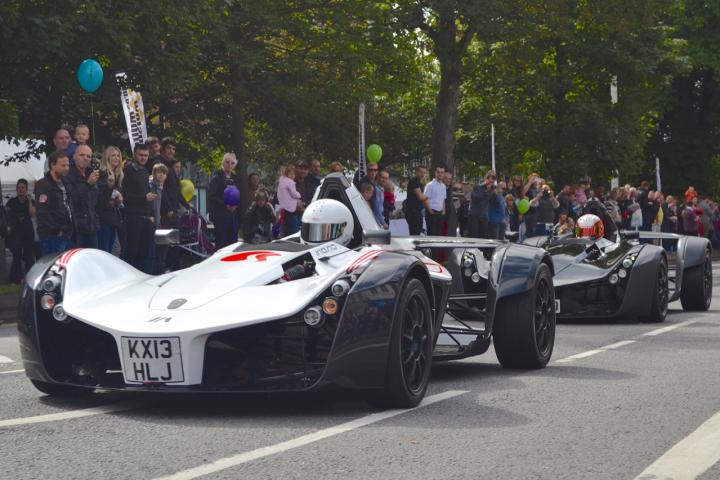 Wilmslow Town Council has agreed to support the Business Group in their efforts to bring more big events to the town and will provide a grant of £7000 to help finance a small events management team for Wilmslow.
Catherine McKenzie, Chairman of Wilmslow Business Group, said "The business group has three objectives, one to encourage networking of members, the second is about providing support to businesses in Wilmslow and the third one is about making Wilmslow the best it can be and making it a town we can be proud of.
"This latter objective is the reason why I am here this evening. As you know the business group organised the last two Wilmslow Motor Shows and I think its fair to say they were highly successful. The latter one bringing 30,000 people in to the town centre. Clearly from the business perspective it's great because of the footfall but also in terms of us having pride as Wilmslow residents in the town centre and bringing something of interest and vibrancy I think the Motor Show ticks the boxes.
"The Business Group is chomping at the bit to continue to run the motor show but also extend our events in the town centre so we'll have more events going on that bring more vibrancy and interest to the town centre."
Wilmslow Business Group agreed to help fund an events team made up of two individuals - an events manager who will work one and a half days a week and an event assistant who will work three days a week. They have allocated £7000 for the coming year and requested that Wilmslow Town Council match funded this - to cover their salaries for eight months.
Catherine added "Their jobs will be very much about working with the Business Group and other partners, including the Town Council, to look at the events we wish to put on, organising the delivery of them and making sure we bring vibrancy and interest to the town centre.
"At the moment we're planning four events, we haven't decided what the events will be although one will be the Motor Show."
Ideas suggested to date include: a Food & Drink Festival; a Fashion Weekend; "Wilmslow-on-Sea Festival" which would involve turning Bank Square into a beach environment and 'Love Wilmslow' weekend.
Cllr Ruth McNulty said "I fully support this application, not least because of the stunning success of the Motor Show which has demonstrated the business acumen that Catherine and her team brought to it, to produce a stunning event and retailers around the town reported their best ever trading days on those two days.
"But it does come with a supreme effort from Catherine and her colleagues and she hasn't played the sympathy card that all those members who get involved in the organisation are running their own businesses so they are giving up their time running their business to put on an event for the town, so I think that's another reason why we should support them."
Wilmslow Town Council voted unanimously to approve the grant of £7000.
Cllr Keith Purdom commented "I am personally pleased with the unanimous vote and wish to send a message to you and your colleagues of our support and appreciation of what you do."