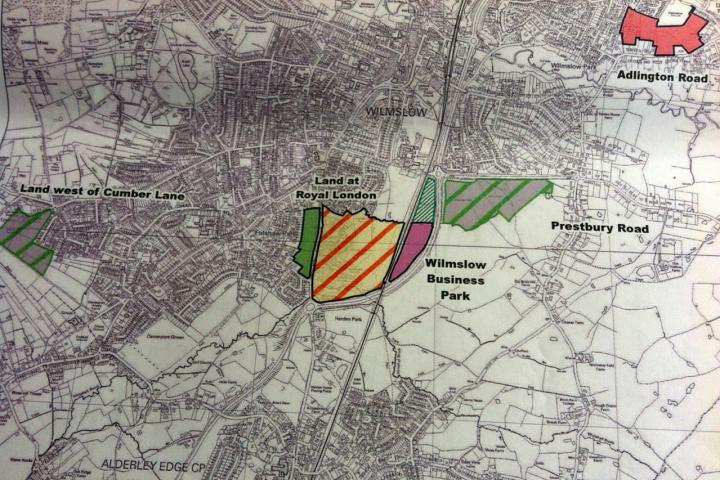 The news that Cheshire East has signed off the endless Local Plan consultation, giving the go ahead to what amounts to a developer free-for-all on greenbelt land around Wilmslow amounts to a total sell-out of residents views.
The council has ignored the constructive concerns of residents about preserving the semi-rural character of the town and building on greenbelt land, when many brownfield sites are available and failed to justify their claims.
A growing ring of development is now set to destroy what's left of the character of the area and add hugely to traffic gridlock. The Waters office development zone underway on the congested Wilmslow - airport road, Manchester's Airport's bulldozing of a further 96 acres of greenbelt at the M56 junction for more business units and Stockport's plans to build around 900 houses on the old Woodford airport site will strangle the area.
But even that is not enough for the council. Approval for a new Handforth East township of 2,300 houses next to the bypass will destroy the last open view we have to the Pennine Hills - a lovely feature.
Council backing for yet another ugly business park on greenbelt land between the Royal London offices and the Wilmslow bypass and more housing off Prestbury road will destroy the last open views Wilmslow has to Alderley Edge. We don't need more speculative business estates ringing our town, when a significant number of buildings remain unoccupied in the local region?
A report in 2011 by the Campaign to Protect Rural England found that many of these projects actually involved displacing existing jobs from elsewhere in the area.
Meanwhile Wilmslow Town Council, which should fight to keep the character of the town, mostly lies flat on its back.
Planning head Adrian Fisher and Council Leader Michael Jones parrot the usual 'sustainable communities' and 'sustainable growth' mantras. They haven't a clue what this really means. They talk of extending greenbelt in other parts of the county. That is of little interest to people in Wilmslow and Handforth. Build more roundabouts and fill them with traffic lights will ease traffic gridlock they claim. Anyone can see that congestion worsened when multiple lights were planted on the A34.
The airport growth predictions fly in the face of major oil energy decline in a few years as global demand outstrips supply and precious farmland we will need to grow more local food is set to be cemented over.
We should fight this madness to the end and look for more rational people to serve our needs.
Opinion post by Brian McGavin, appalled Wilmslow resident.