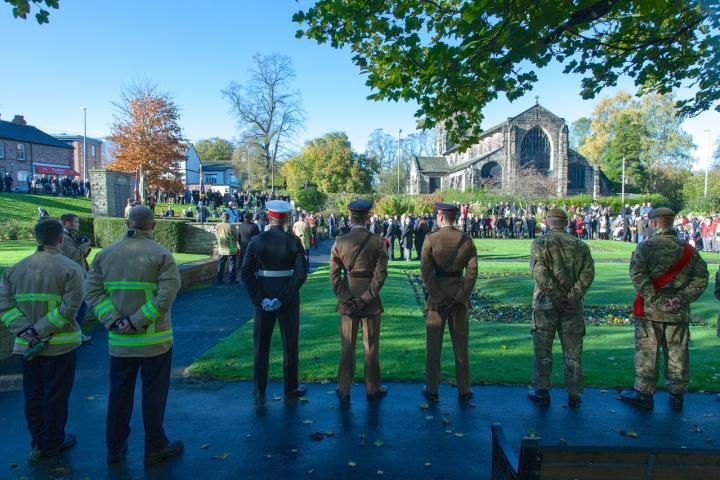 Wilmslow Town Council, Wilmslow Historical Society and the Royal British Legion are working on plans to commemorate the First World War.
A working group has been set up to explore ways to mark the 100th anniversary of the start of the war on 28th July this year, which include producing a booklet and uncovering any hidden war memorials.
Cllr Martin Watkins said "We have looked at a number of things we might like to do. This is a commemoration not a celebration so it is not about having big parades or anything else unless it is appropriate. Also it is not yet about all those people who were killed in the First World War, we're also interested to know about the effect it had on local families, wives, children etc.
"So far we've had an offer from the Historical Society and they are giving us assistance to put together what we hope will be a booklet in about 4 years time.
"We would like members of the public to send their own thoughts, memories and records of what happened to them and their own families in the First World War so we can collate it."
Additionally Khumi Burton, member of the Wilmslow Royal British Legion branch, would be grateful if anyone who knows of a hidden First World War memorial in the Wilmslow area could get in touch will her so they can arrange for it to be uncovered and cleaned up.
Khumi also wanted to mention the success of the Poppy Appeal, saying "The whole of Cheshire County so far has exceeded a million pound (£1,001,329.99) hopefully more money to come as the year end is September 2014. I am very grateful to all the Poppy Appeal organisers of Cheshire East for their hard work and the volunteers who collect at static points - the cadets – Air and Army, the Guides, the schools, garden centres and everyone else who has helped and donated generously their time and money. The Army families needs our help and support."
Khumi added "The last time the million pound was exceeded was when the Legion become 90 years old. A huge huge thank you to everyone."
The Wilmslow Royal British Legion will also be holding a Commemoration Service at St. Bartholomews Church on Saturday 28th June at 3 pm. This Service will incorporate Arm Forces Day (formerly Veterans Day).
Khumi Burton can be contacted by email at khumi@tiscali.co.uk or telephone: 01625-548664.
Wilmslow Town Council can be contacted at townclerk@wilmslow-tc.org.uk or on 01625 402907.