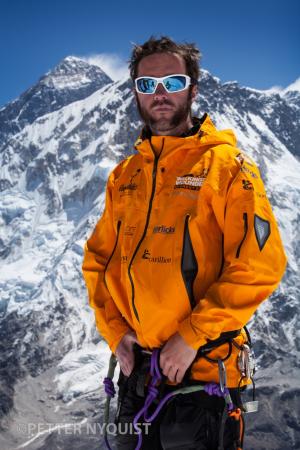 An inspirational wounded soldier from Wilmslow is preparing for another incredible challenge, which he hopes will see his team smash no less than four world records.
Over the next 3 years, Martin Hewitt and his teammates intend to become the first disabled team to complete the Adapted Grand Slam (AGS).
The 'Grand Slam' is well-known amongst seasoned mountain climbers and expedition leaders as the Holy Grail of mountaineering achievement; the Adaptive Grand Slam is unique; as the name suggests - those undertaking it have to find alternative ways and means of completing the Grand Slam due to their various disabilities.
Together, they intend to successfully climb the seven highest peaks on the seven continents and reach both the Geographic North and South Poles.
Captain Martin Hewitt, 33, served with the Parachute Regiment in Afghanistan. Whilst leading his men in combat he sustained gunshot wounds to his chest and foot which paralysed his right arm, and ended his military career.
Despite this Martin has since gone on to race on the British Disabled Ski Team and in 2011 (as part of the AGS) he was part of the first disabled team to walk unsupported to the North Pole, joined by HRH Prince Harry.
Since then he has lead a team of wounded soldiers on expeditions to Mt Manaslu, Mt McKinley and Mt Everest - unfortunately they were denied the summit as their trip was by hampered by poor weather and avalanche warnings.
Next month, he leads his team in the Marathon des Sables, a 156 mile ultra-marathon (said to be the toughest foot-race on earth) in the Sahara desert. They are also currently training for their next challenges, to climb Mt Kilimanjaro and Mt Elbrus this year.
Speaking about the Grand Slam, Martin told me "Having walked unsupported to the North Pole and established a team to climb Everest I wanted to explore what was possible and the Explorer's Grand Slam is the 'Gold Star' of any explorer's desire. I wanted to do something that had never been done before and develop a team of disabled adventurers to take on a challenge of this magnitude."
Joining Martin Hewitt are: Jaco Van Gass (since loosing his arm Jaco has completed numerous marathons, walked unsupported to the North Pole, climbed Mt Manaslu and attempted Everest); Matthew Nyman (injured in Iraq when the AH-6 Little Bird he was on went into an uncontrolled spin during a special operations mission. He has since summitted Denali and Mt Lobuche) and Terry Byrne (injured in August 2008, sustaining a below the knee amputation of his right leg with a damaged right hand and amputated little finger. Since his injury, Terry has gone on to achieve a position on the GB Cycling team and obtained several world records). They will be joined by Harry Taylor, one of the world's most legendary climbers.
Martin is currently training for the Marathon des Sables which involves a combination of gym work, improving core stability and balance, cardio vascular, running and back strengthening. He has also been training in the hills with weights on, fell running and skiing.
Martin explained "I was set back 12 months ago when I tore my groin on a waterski jump where I didn't land properly, dragging the ski underwater. Thanks to the support and dedication from my great physio Kevin I am now fully rehabilitated. "
Speaking about what part of the Grand Slam will be the toughest challenge, Martin said "Technically, Carstensz Pyramid, the highest mountain in Australasia. Mentally, Everest because I'm scared of heights and it's so mentally and physically challenging, and in terms of endurance it'd be the South Pole due to the sheer distance from land to the pole itself."
This incredible feat is in aid of several deserving causes, including Walking with the Wounded whose aim is to support our servicemen and women who return injured after serving their country, often coming back to face a future they never could have imagined. Money raised helps to finance education and training courses for those who have been injured, to help smooth career transition. This enables the blind, mentally wounded, amputees and other wounded personnel to rebuild their lives and return to the workplace.
They are also raising money for Skiing With Heroes, which takes ex-soldiers skiing and through motivational training and experiences gets them back into work, and lesser-known causes including Post Traumatic Stress Disorder.
Several fundraising events are being held in the run-up to their next challenges, these include A Question of Sport at Hale Grill on 5th March, a full-scale Poker Tournament run over March and April and a special talk by Martin Hewitt at the Marriott Manchester Airport in May (date TBC).
Whilst an estimated £75,000 is needed to complete Kilimanjaro, a record £300,000 is needed for Everest next April and around £1.5 million being raised for the AGS as a whole.
For further information visit www.adaptivegrandslam.com.