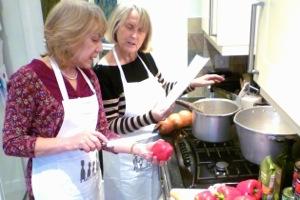 A local charity which is well known for organising souperdays, to raise funds for providing sources of clean water in rural African communities, is planning some changes for this year's event.
Since 1993, Wilmslow Wells for Africa has been holding these twice yearly events which have always been hosted by St John's Church on a weekday. However, the volunteer-run charity is now experimenting with a new venue and holding it on a Saturday – in the hope of attracting some new customers.
The Souperday will take place at Wilmslow Methodist Church Hall, Water Lane on Saturday 8th March from 11am to 2pm.
Free parking will be available behind the hall and the admission charge of £4 includes a bowl of warming soup and bread (both home-made) plus a hot drink. Under 16s pay half price. There will also be a cake and home produce stall and a bric-a-brac stall.
Helen Battilana, Chairman of Wilmslow Wells for Africa, said "People are invited to call in for just a drink if they wish Our well-known cake stall may tempt them too! Because we have more space available at our new venue, there is plenty of room for children to play, with informal seating for their parents."
This year, marks the 30th anniversary of Wilmslow Wells for Africa becoming a registered charity and, since then, they have raised about £925,000. This has enabled them to fund more than 150 projects providing clean water in African rural communities.
The charity is run by volunteers, who do not charge for their services, and since being founded they have spent 99.2% of their income directly on the projects.
Photo: Irene Wright (Committee Member) and I preparing one of the four different flavours of soup that will be served on the day - red pepper, lentil and sweet potato soup.
Tags: