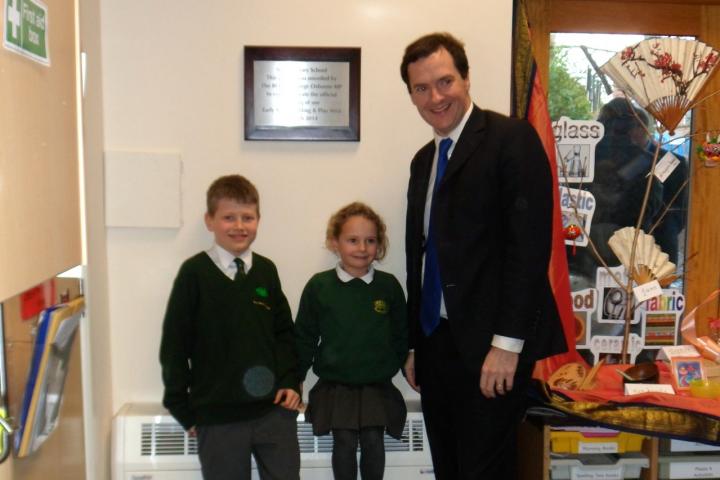 Following an invitation from the the children of Styal Primary School, MP George Osborne went along last week to officially open the new early year's classroom and play area.
On Friday, 7th February, the Chancellor of the Exchequer was welcomed by the school choir singing Motherless Child. He was then given a tour of the new areas of school by Headteacher Helen Smith, accompanied by Year 1 pupil Lily Holliday and Year 6 pupil Daniel Vose.
The school's steel band played a few lovely numbers in the new early years outdoor area, before Mr Osborne cut the ribbon to the new classroom amid cheers from all the Key Stage 1 children who then sang Castle on a Cloud. Afterwards George Osborne posed for photographs by the plaque commemorating his visit before listening to the Key Stage 2 children sing Do You Hear The People Sing? The visit ended with tea and cakes, kindly donated by parents.
Speaking about his visit George Osborne said "It was great to open the new reception class at Styal Primary school. I was really impressed with the music performed by the children.
"It's a terrific building - modern exercise facilities are so important for our children's development."
Head teacher Helen Smith said "The children enjoyed entertaining Mr Osborne with their musical talents. He recognised the unique character of Styal and commented on the confident nature of our children. It was a lovely way to celebrate opening our new building."
Other visitors enjoying the entertainment were parents, governors, villagers and ex-pupils of the school. Alan Gardiner, a former pupil, who attended the school with Terry Waite in the 1940s, chatted to George Osborne about his experiences at the school with no heating. In those days there were less than 30 pupils and the school risked closure, whereas nowadays the school is over subscribed and attracts pupils from a wide area.