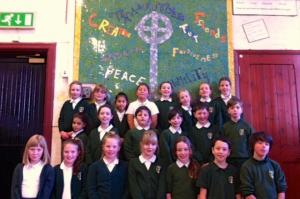 Pupils from Year 5 from St.Anne's Fulshaw CE Primary School have worked with Amanda McCrann from Manchester Art Gallery to create their own beautiful mosaic. The huge work of art has been placed in the School Hall to act as a focal point for the pupils during assemblies.
The design working group of children first decided the words which summed up the ethos at St.Anne's Fulshaw and included words such as peace, wisdom and humility. The Fulshaw Cross which is the symbol of the school lies at the heart of the mosaic. After the design process had taken place every single member of the school was involved in placing the tiles and grouting – a very messy process. Pupils thoroughly enjoyed the experience with many commenting it was "the best day ever" at school.
Amanda McCrann observed "It's such a buzz to see young people creating and having total ownership on projects. The sessions were really informal and fun but the pupils' behaviour and attitude was really fantastic." The work was funded by the school PTA and community groups have been invited in by the school to see the finished mosaic."
Member post by Nicola Cathery.