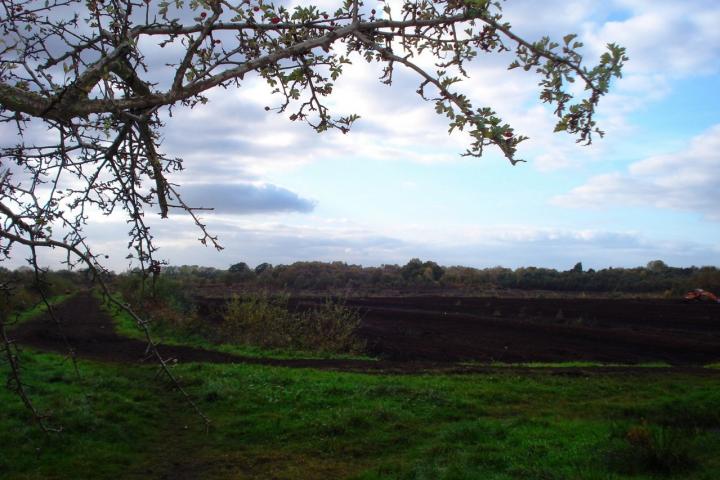 The owners of the Lindow Moss peat extraction and processing site off Moor Lane are seeking permission to build houses on part of the site.
They are proposing to restore the 28 hectares peat extraction site to a natural wetland habitat (i.e. a raised bog) provided they can build 14 detached houses on the 2 hectare peat processing site, which lies immediately south of the peat extraction site.
A similar proposal was put forward in 2008 for a scheme which sought to cease the excavation of peat, restore the peat extraction site to a natural wetland habitat and build 32 dwellings (a mixture of houses and apartments) on the peat processing site, but this was never progressed.
Tony Evans, Hon. Secretary of Saltersley Common Preservation Society, said "My view is that allowing the proposal to go through and stopping the peat extraction is the lesser of two evils, although how they propose to restore a peat bog that has taken 1000 years or more to develop should be interesting.
"It would also be interesting to see how they will tackle the problem of subsidence which is occurring around the site. I am sure people buying new houses would want some long term guarantee against this."
In advance of a planning application being submitted, the owners of the land Mr A Rowland and Mr R Bond are inviting local residents to a public exhibition where their proposals for the development of the site will be on display.
The exhibition will be held on Friday 24th January, from 4pm to 8pm, and Saturday 25th January, from 10am to 2pm, in the restaurant at Ned Yates Garden Centre on Moor Lane.
Alistair Yates, Senior Planning & Design Consultant at Axis Planning, said "The exhibition will be staffed by members of the project team who will be available to explain the proposal in more detail and answer any questions that might arise."
Tags: