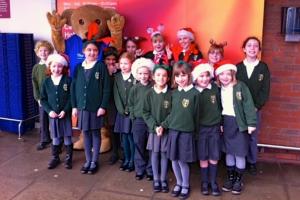 A group of children from St.Anne's Fulshaw School entertained the shoppers at Sainsbury's today (Friday 13th December) with their carol singing.
The children were raising funds for The Christie and were accompanied by the mascot Christie Bear who collected money as the children sang.
Nicky Cathery, Chair of Governors, said "The children who ranged in age from 6-11, thoroughly enjoyed the experience and hope to repeat it again next year."