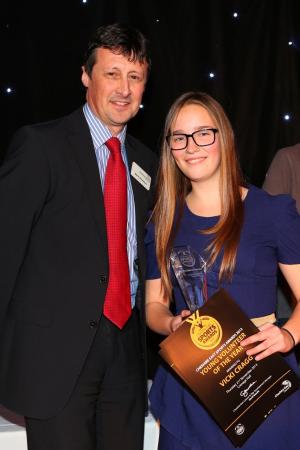 Many of Cheshire East's unsung heroes have been honoured at the Council's annual sports awards which proved a successful evening for Wilmslow High School, its staff and students.
Now in its fourth year, the event aims to recognise the time and dedication put in by volunteers, coaches, clubs and athletes to develop sport across Cheshire East.
More than 170 people attended the awards at Cranage Hall on Thursday, 21st November, organised by the Council's leisure development department. This year a record 91 nominations were received in the 10 categories.
In a new category for 2013, Wilmslow High School was recognised as Secondary School of the Year. The award celebrated the school's commitment to providing two and a half hours of high quality PE each week for all students, the range of extra curricular opportunities available for all students, its student leadership programmes and the school's hosting of the Cheshire and Warrington Winter School Games in March.
Current Year 10 student Vicki Cragg was also recognised as the Young Volunteer of the Year, a category open to individuals aged 18 or under who have volunteered their time within school and community settings over the last 12 months.
Vicki is a key member of the Wilmslow High School Games Makers programme as well as a volunteer coach with junior hockey teams in school and with Wilmslow Trampoline Club.
Also on the shortlist for the award were former Wilmslow High School Students, Blake Roberts and Josh Burgess who were recognised for their work on the Street Sports programme with Cheshire East Council Leisure Development Volunteer in Wilmslow.
Rosie Harris was also shortlisted for the Special Recognition award, recognising the dedication and hard work she has put in over a long period of time to make a difference to sport in Cheshire East, both through her role as founder and chair of Wilmslow Lightning Netball Club and the School Games Organiser for the Macclesfield Sports Partnership.
Councillor Janet Clowes, Cabinet member in charge health and adult social care, said: "This awards ceremony recognises those at the grass-roots level who have a passion for sport and represent Cheshire East.
"Many of the people who received awards have dedicated a lot of time to excelling in their chosen sport or guiding others towards their dreams. My congratulations go to all the winners."
Photos: Cheshire East Council's leisure services manager Mark Wheelton with Vicky Cragg receiving her Young Volunteer of the Year award.