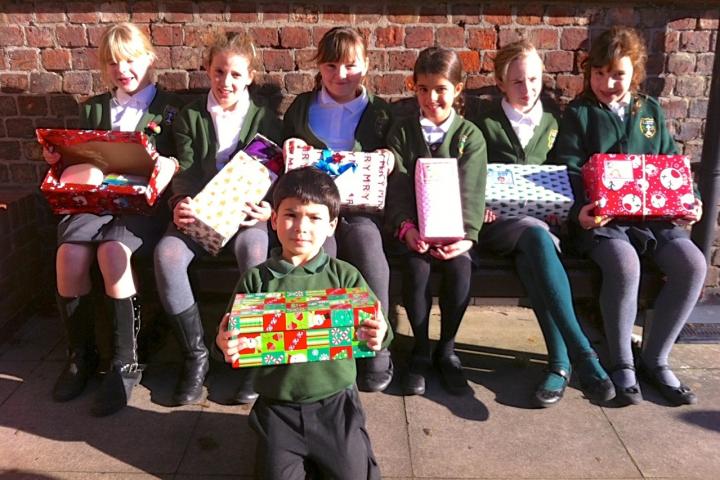 Children from St. Anne's Fulshaw Primary School have been supporting the Operation Christmas Child appeal again this year, which is run by the charity Samaritan's Purse.
The children were asked to fill a shoebox with small toys, sweets, pens and paper and toiletry items, such as soap and toothpaste. They decorated the shoebox with wrapping paper and attached a label explaining the age and sex of the child the gift has been prepared for.
Over the years that the school has been encouraging the children to bring a decorated shoebox filled with gifts, the pupils have responded wholeheartedly, many children preparing several shoeboxes for children of varying ages.
Joseph aged 10 commented "I decided to prepare a shoebox for a boy my own age and then I used my pocket money to buy toys and soap. I hope whoever receives it has a great Christmas."
The charity explains the benefits for the children who contribute in this way "It gives children who grow up with relative wealth the chance to be a part of selfless giving to others - irrespective of the creed, colour, religion, sex, ethnicity of either the child giving or the child receiving. This is a powerful message for children. It is also part of a positive education that promotes true compassion and welcomes diversity."
Ms Daniel, Head Teacher at St. Anne's Fulshaw concurs "Operation Christmas Child allows our children to really appreciate what life is like for needy children in other countries."
The boxes are being collected from school by a representative from the charity today, Monday November 18th, and will be taken to countries throughout the world where they will bring joy, hope and smiles to a child whose life has been haunted by poverty, disaster, disease or war.